Boxee Box Gets First Firmware Update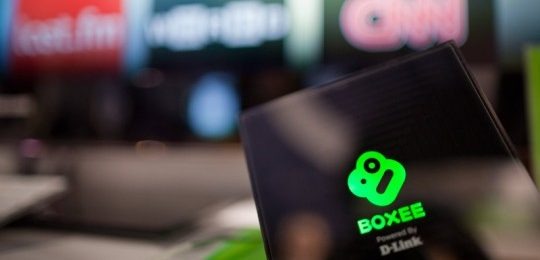 Boxee has pushed out the first firmware update for the Boxee Box by D-Link, v1.0.1.16319. The full changelist is after the cut, but highlights include the addition of .mkv with header compression support together with WiFi fixes, networking sharing fixes and smoother Blu-ray content playback. Although the Boxee Box automatically checks for updates daily, it's also possible to prompt an update via the settings menu.
The Boxee team is now apparently working on the next firmware version, with not only bug fixes but usability and UI tweaks; more details on those changes are promised for next week. The company expects "a couple more" firmware releases before the year is out, together with Netflix and Vudu support for the STB.
Bug Fixes and Improvements:
Media Playback
1080i playback in Web browser caused black screens for Web and local content
Some HD .avi content playing at low frames-per-second
Failure to seek in specific Blu-Ray .iso over a network share
Case sensitivity issues in .iso filename extension
Stuttering while playing some Blu-Ray content
No video, audio only while playing some .m4v content
Failure to render .ass subtitles after changing overscan settings
Failure in opening .rar files containing subtitles
Playback and overscan issues when switching to and from fullscreen of online content
Rear channels on AAC 5.1 are not played properly w/ LPCM 5.1 out
Flash video audio drops out after ~1 hour in certain online videos
Select subtitles from hard-drive, screen does not work
MPEG1 video inconsistent play
Re-buffering during playback of HD-Audio
Video stuttering and losing audio (white noise) when resuming playback on a specific title in a blu-ray folder/ iso file
HGTV OSD Controls don't work and counter stuck at 00:00
MPEG4 movies occasionally have green line at the side and/or purple line at the button
Wireless Connectivity
Wireless signal levels display (showing one bar when in fact 3 bars should be displayed)
Some WiFi encryption schemes were not supported
First time WiFi setup takes excessive time
Boxee does not accept '$' in passwords for WiFi
Wrong message displayed when WiFi password is wrong
Network Shares
Repeated credentials request for non-secure network shares (SMB)
Unable to access network share when Window Live is installed on Windows 7
Intermittent crashes when failing to open networked media
Frequent disconnects from Mac OS X network shares (SMB)
Not reconnecting to disconnected shares disables selection in the Movies database view
Prompted for username/password when accessing different shared folders on same computer via SMB
Other
Empty screen appears when filtering shows by Channels > TED, Engadget, when geo lock is enabled
Faulty DNS configuration when using VPN causing a Boxee network disconnect
Not returning to the selected item library screens after item selection
Leave/stay prompt shows up multiple times for some online content
Searching for applications with spaces in their titles (i.e. funny or die) doesn't show the application in the results
When creating a new user, username textbox is not visible when the email contains the word 'boxee'
Repositories screen buttons activation and adding toggle state is wrong
Web browser screen size was wrong, not compensating for overscan
"Resume from" does not always show
Browser Loading progress bar does not go away
Weather location and timezone are not always set up correctly
Boxee weather application doesn't use the Temperature Scale configured at Settings > General > Location
Asian fonts display in the browser
'Friends feed' from Facebook is not ordered correctly
TV OSD does not always work
Browser Loading progress bar does not go away in certain cases
Improvements and additions
Support .mkv with header compression
Support switching from PC black level to video black level
Default overscan is now 3% on all borders
Add a global subtitles toggle, set to off by default
Support for showing the last letter typed in password fields
Support local thumbnails: .tbn support / folder.jpg
Enable external subtitles for Blu-Ray and DVD iso/folders
User selectable slideshow for the screensaver