Boundary Supply Arris backpack hands-on: The one-bag traveler's dream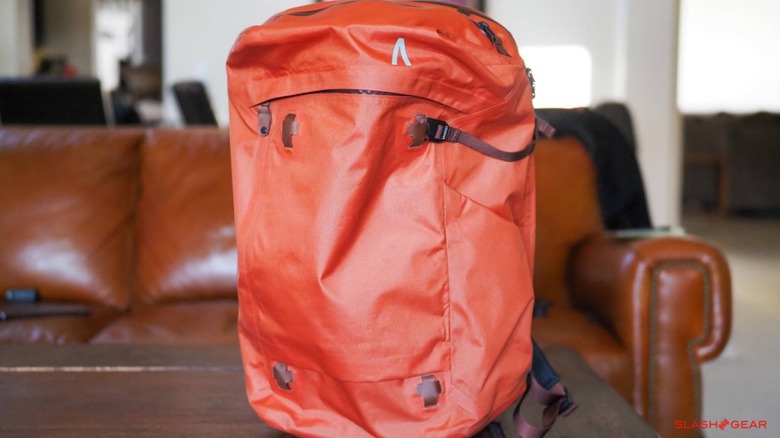 There are a lot of factors to consider when your ultimate packing goal is to only travel with one bag. Do you opt for one with wheels, go fashionably hand-carried, or pick a backpack? Over the years I've developed a preference for the latter, and lucky for me there has been a big surge of backpacks over the past couple of years. The options range from startups through to the likes of Tumi, Nomatic, Wandrd, and Boundary Supply, and you'd be forgiven for finding it all overwhelming.
While Boundary Supply is still technically a startup, using Kickstarter to crowdfund their projects, their last two projects – Prima and Errant – well exceeded their funding goals with over $1m each. Their latest offering, Arris, piqued my interest mostly because it's a modular travel pack.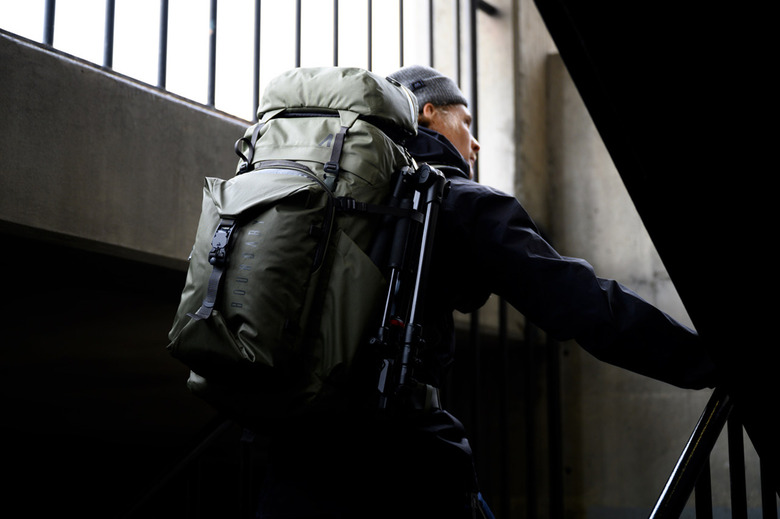 As a frequent traveler, my needs vary from trip to trip. I could be away for anything from a day to full week; I might have to pack clothes for two different types of weather. Combined with my one-bag-goal I need a packing solution that's flexible and lightweight, yet durable enough to withstand the harshest of harsh conditions. It must have enough capacity to hold everything from clothes, an extra pair of shoes, to all my camera and tech gear.
The Arris travel system could very well be the answer to my years of searching for the carryall in one solution. Let's start with the 35-liter Arris Pack – which is the base for the modular system. It only weighs 3.6-pounds, making it one of the lightest compared to the competitors with similar volume and dimensions. It measures in at 21.5 x 12.5 x 9 inches for the height, width, and depth, respectively.
The Arris Pack
No detail is too small when it comes to edging ahead of the backpack crowd, so let's dive into the different aspects of the Arris Pack. It's important for me that there's a larger, catch-all pocket placed somewhere near the top of the bag for frequently used items such as headsets and charging cables, which it has. There's also a side-access zipper to the main compartment, making it easier to grab a camera or if you're not a photographer, other items such as travel documents or snacks. There's a pocket for a water bottle, on the opposite side of the bag. The zipper to the main compartment also allows for easy access to laptops and tablets.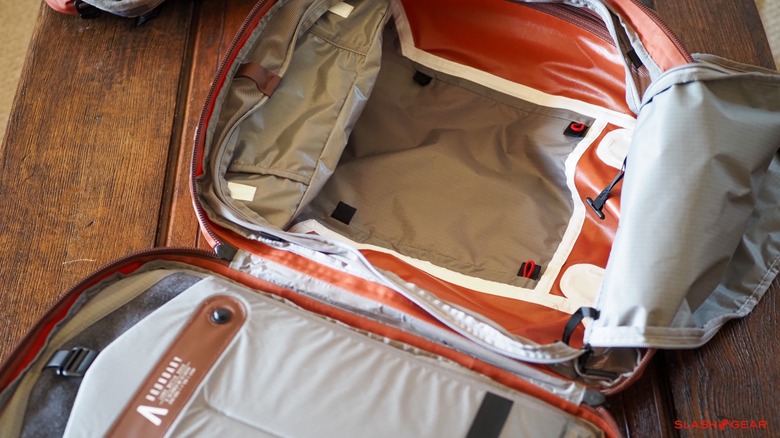 For longer trips where I happen to be traveling to colder climates and need to pack a thicker jacket and an extra pair of shoes, I tend to use my 22" Porsche Design Roadster Hardcase suitcase. So, for me, this is one of those must-have: a way to securely latch the Arris Pack to the top. There are three padded side handles placed on the top and sides, which double as a luggage pass-through. I can confirm that the side handles are barely wide enough for my luggage and should be wide enough for most luggage handles. The Boundary team is aware that the width is slightly short, so they're planning on widening the handles to accommodate larger and wider luggage handles.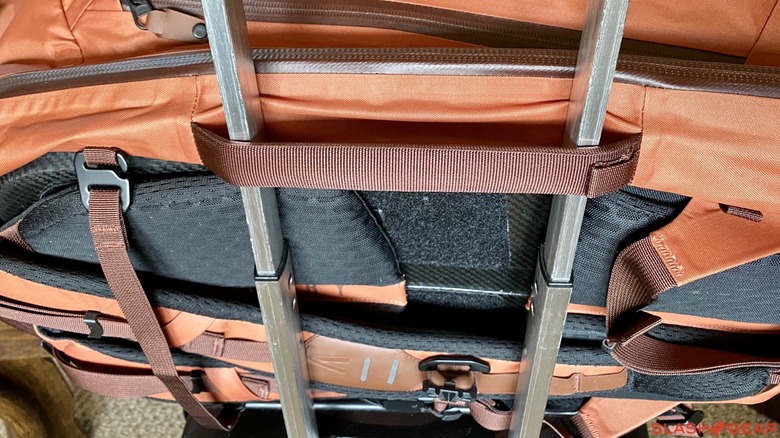 Build quality as I've stated is important, but the materials used are equally important. The last thing you need is a bag that isn't weatherproof, in case you're caught in a rainstorm. The 400 TPU Nylon is both durable and lightweight and also coated with LC1 Face Coat for added water-resistance.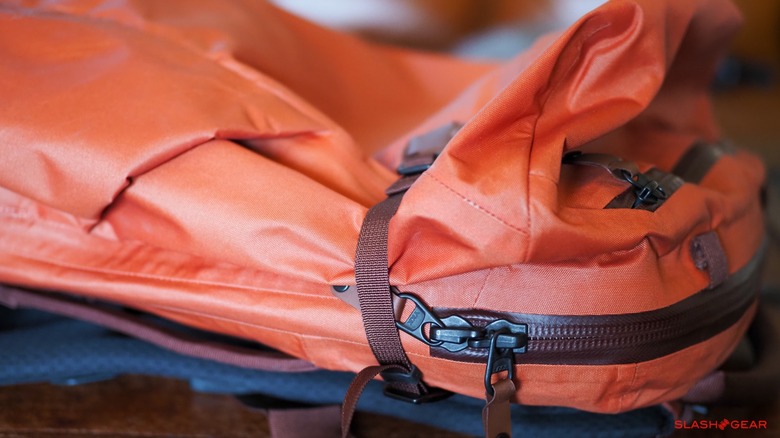 Additionally, there's another coating of the TPU lamination on the backside to ensure that waterproofing really is 100-percent. The YKK zippers are sealed with a layer of TPU-coated nylon seam tape to keep unwanted liquid from seeping through, while also promising to improve on seam strength and reduce daily wear and tear.
My backpack can weigh anywhere from 30 to 40-pounds, depending on how much gear and clothing I'm bringing along. On a recent trip, for example, my HEXAD Access Duffel backpack for a four-day trip weighed in at exactly 35-pounds. That's with enough clothes for the entire trip, a monopod stand, an Olympus OM-D EM1 MkIII and various lenses for it, a packable Oakley Two-Faced laptop bag, and a ton of miscellaneous accessories. For the neck, shoulder, and back, that's a whole lot of weight to lug around, and these days I'm particularly conscious not only how much a bag weighs, but how it distributes that across your body.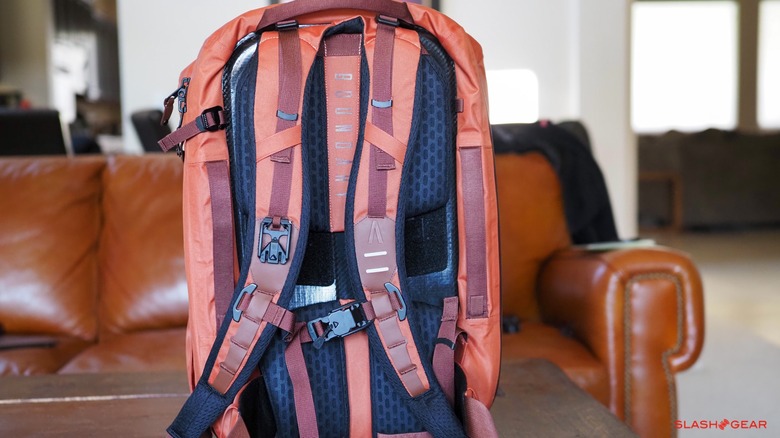 Boundary System's answer is an adjustable suspension system, and I have high-hopes for the lightweight mold composite material used in the Arris Pack's back panel. The bottom portion is held together by Velcro, so adjusting the height should be quick and painless. As you can imagine, this is the most important piece of the entire bag, because it provides support the entire weight on your shoulders.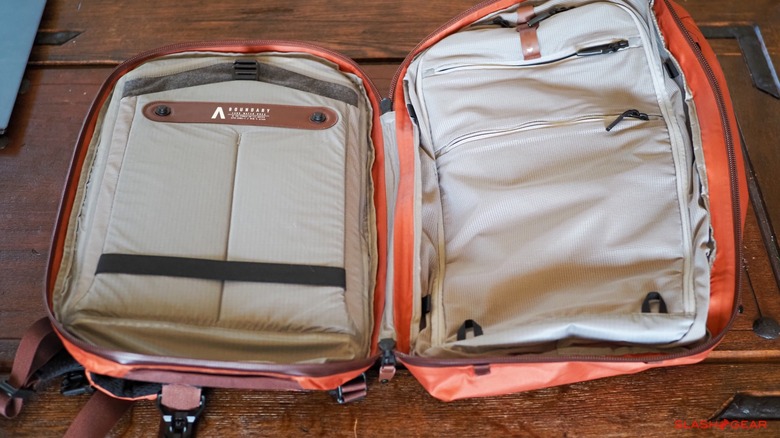 I like that the bag unzips into two halves. It makes my life much easier going through airport security, both stateside and abroad. Even with TSA Precheck, I usually have to pull out the laptop, so being able to run the bag through the scanner opened up allows an agent to see things clearly.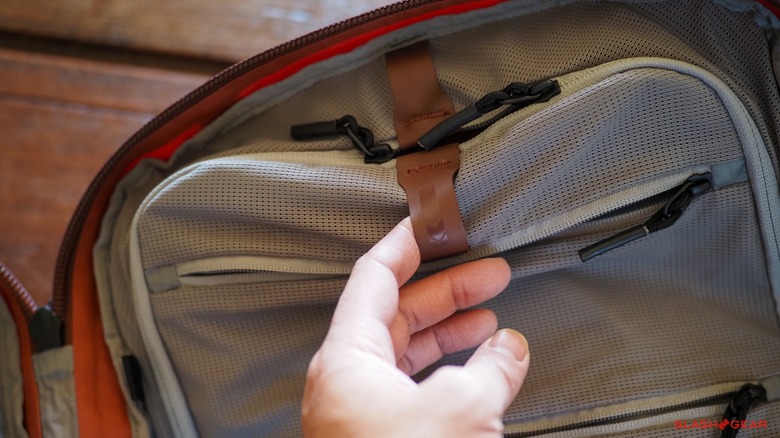 Inside, from the left, there's a padded laptop sleeve lined with Nywool with a self-latching magnetic hook, magnetic connectors for the Fieldspace 2.0, and sleeve expansion panels. On the right side, this is where you'll pack the bulk of your clothes and gear. At the top of the divider is a small zipped pocket, followed by a large zipped pocket.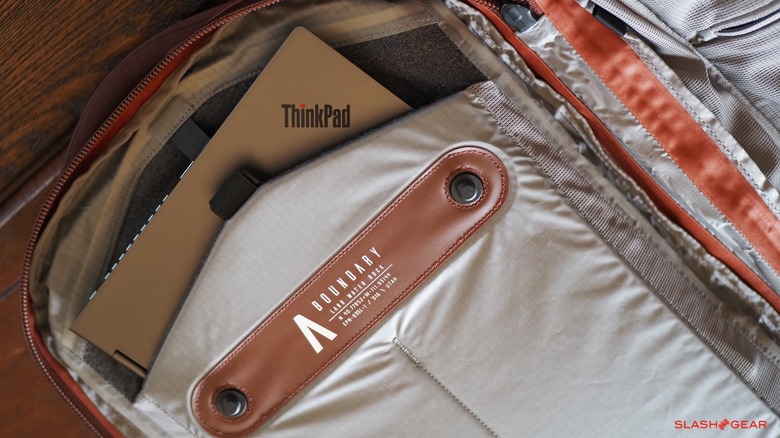 My favorite feature in this compartment is being able to quickly rip through the divider. To open, simply hold the top and pull down to unzip both sides evenly. That's just brilliant! On every single bag I've tested and used, it takes time to zip and unzip this layer in order to gain access to the main compartment. What usually ends up happening is that I simply don't use the divider at all, and it just gets tucked or rolled to the bottom. There's also quick access to this area from the outside.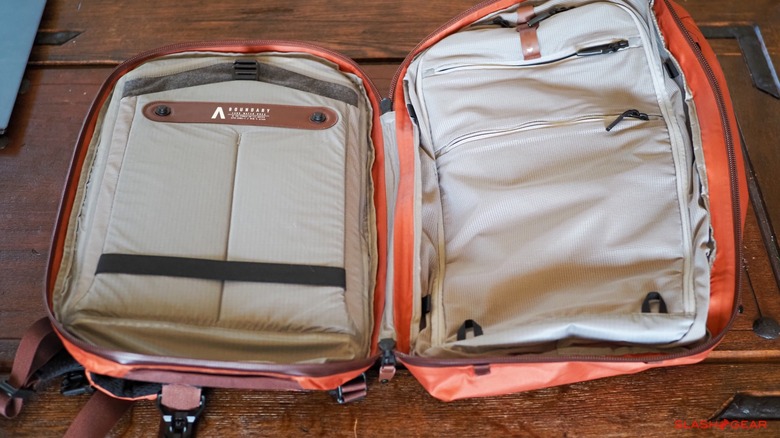 There's also a 10-liter, removable, waterproof bag, included for you to separate dirty clothes or shoes from clean clothes. I like that it's securely attached to the Arris via four toggles, preventing it from moving around. Boundary's known for their magnificent magnetic clips so, as you'd expect, that's what's used to close the bag.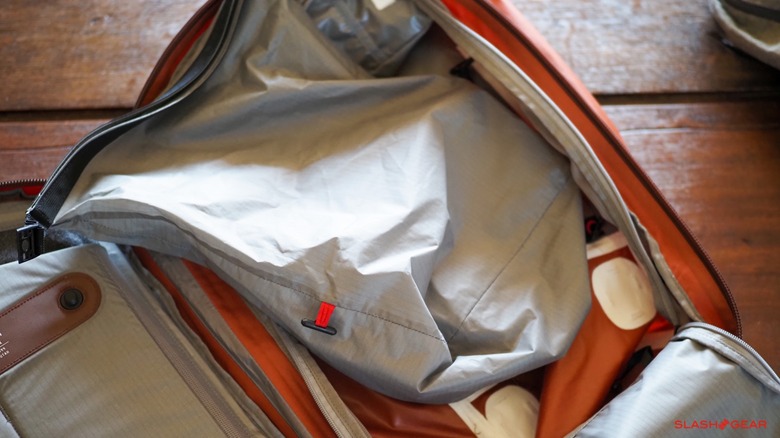 The Arris Ecosystem: Stasis Sling, Rift Pack, Tek Case and Fieldspace 2.0
What really caught my attention is the modularity of the Arris pack, thanks to Boundary's 360 Lash System. Adding on modular components looks cohesive and well thought out, instead of an afterthought. While I really like Mission Workshop's rail system for combining accessories, it took more time to attach and detach. The material used also added additional weight to the overall bag, making it extremely heavy. On top of that, they don't offer an accessory like the Stasis Sling.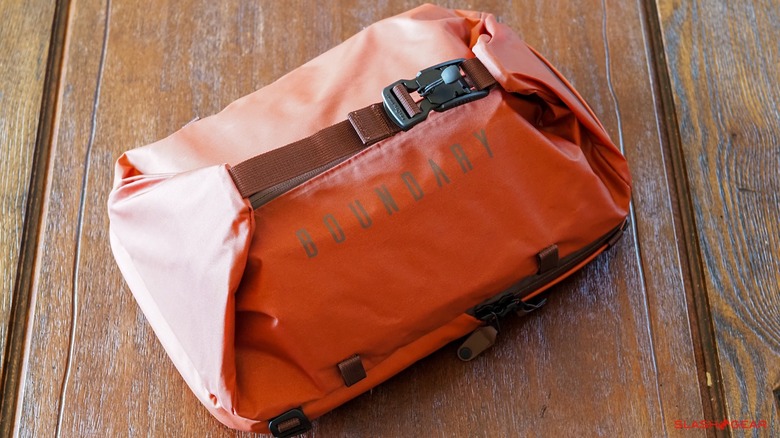 The Stasis Sling is hands-down my favorite component because it will hold everything I need in transit and once I arrive at my destination. When you're traveling with just one bag, there's a lot of planning as to what you'll need to take out to use on the airplane: the big backpack invariably won't fit under the seat in front of you. There's an inherent danger to forgetting a charging cable, charger, tablet, headsets, or even your phone when you get up.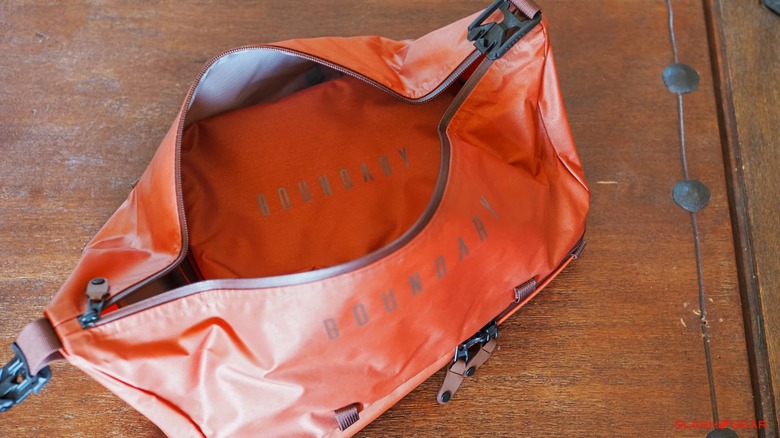 There's plenty of room inside the Stasis to hold either my iPad Pro or the new MacBook Air laptop and the Tek Case. Using the Tek Case, I should be able to pack everything from charging cables, to memory cards, extra camera batteries, and portable power adaptors or battery pack.
It's usually a pain to bring along a camera because it takes up additional space that I can't spare. With the Rift Pack, which securely sits on the very top of the Arris Pack, I should have plenty of room for my camera and an additional lens. Its design is similar to the Sling, with up to 3.5-liters of storage versus 15-liters. Attention to details such as being able to tuck away the waist belt behind a flap on the back is a big plus in my book.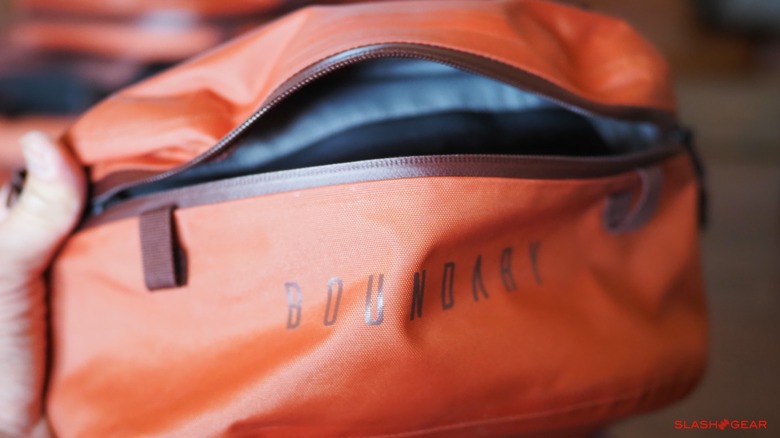 The Tek Case is one accessory that will migrate from Arris Pack to the Sling or the Rift. It's small enough to bring along – and I plan to use it to keep everything organized using the 8 individual compartments and elastic grid panel to keep cords in check. Not only that, there's a charging cable pass-through for smaller battery packs. The center compartment has stretchy pockets and secured zipped sleeves for items such as memory cards and AirPods, while sunglasses will fit in the zipped front pocket, lined with Nywool padding.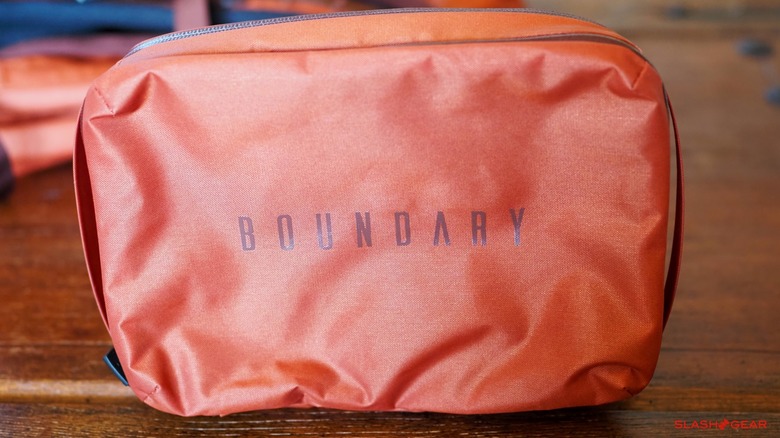 Finally, the Fieldspace 2.0 is perfect for an iPad and other smaller items. It connects to the inside of the Arris Pack via magnetic connectors. I see this item as a secure place to keep the iPad and other electronics.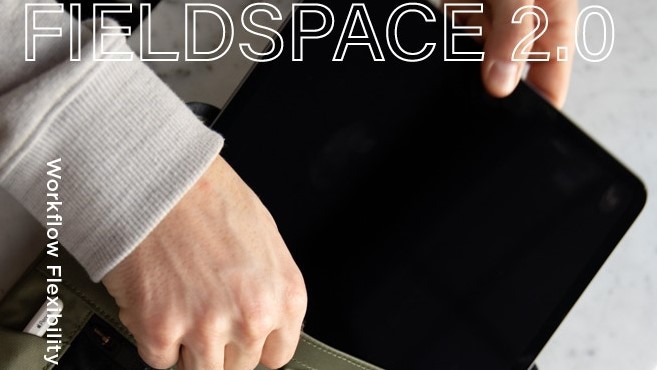 Altogether, it sure looks like the team at Boundary has done a great job thinking through every aspect of the Arris Adventure Travel Pack and its modular accessories. There was great care in selecting the right material for each function whether it serves to keep out the rain, allow for expansion on the interior compartments and right down to protecting your expensive gear from getting scratched up. More importantly, the design of the back panel was all well thought out to help with shoulder fatigue thanks to the suspension system.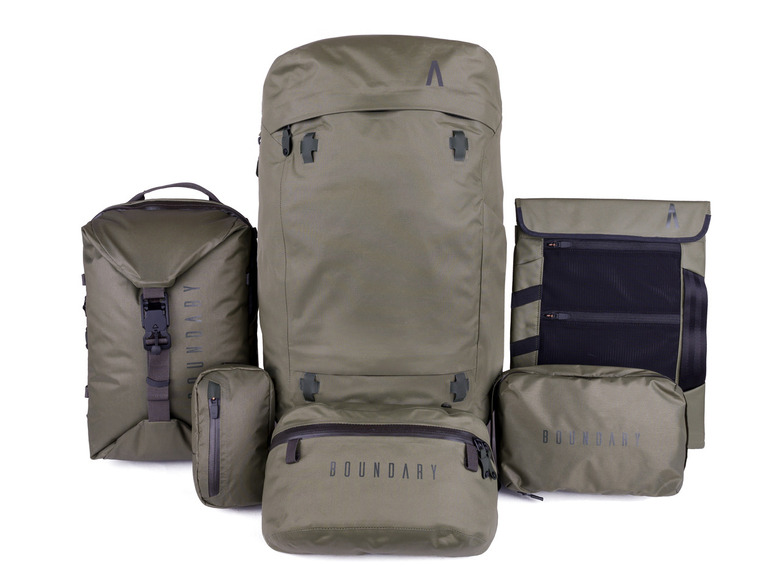 While there are risks to backing any projects on a crowdfunding service such as Kickstarter, this project has already met its goal of $100,000 with over 480 backers raising almost $150k at time of writing. There are still 45 days to go – and if history repeats itself, Boundary should conclude this project with similar success as the Errant and Prima bags. I'll have a full review of the Boundary Supply Arris after I've had a chance to head out on the road with it.