Mission Workshop the Radian Review: The road-warrior's travel pack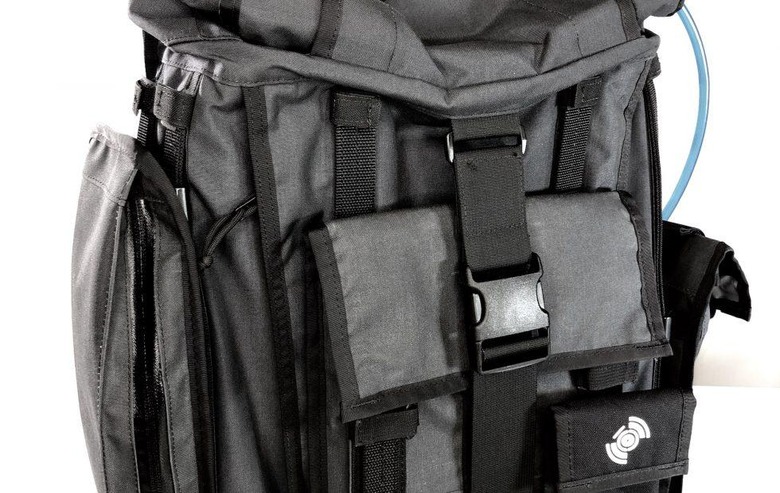 There are plenty of issues with being a frequent traveler, but finding the right bag can be one of the most frustrating – and lead to one of the biggest addictions. Packing for multiple trips, especially back-to-back, can be a challenge, especially when they can vary due to climate, the type of event you'll be attending, and factoring in specific equipment. In short, deciding what to pack is just as important as figuring out what you're going to pack it all in.
For the globetrotters I've spoken with, there's usually one secret ambition: we just want to carry one bag and be done with it. A simple request, you might think, but it gets more and more complicated as you run through the possibilities and requirements. For me, it has to be roomy enough to fit at least three to four days worth of clothes, an extra pair of shoes, toiletries, a 13 or 15-inch laptop, an iPad, a couple of phones, a power bank, camera with an extra lens, extra batteries, a gimbal, and last but not least a boatload of chargers and cables, preferably without them forming a rats' nest of cables along the way.
Even that might seem manageable, but things get more complicated when you have to factor in space for a sports coat or two, a lightweight winter jacket, and heavier jeans. Then there's expensive equipment – think camera lenses – all demanding extra protection.
As well as the luggage mainstays, countless crowdfunding projects have promised the "perfect" solution. I've tested many of them, too, ranging from $100, to $1200, as well as high-end bags from Tumi. In my experience, though, they all fall short in one area or another.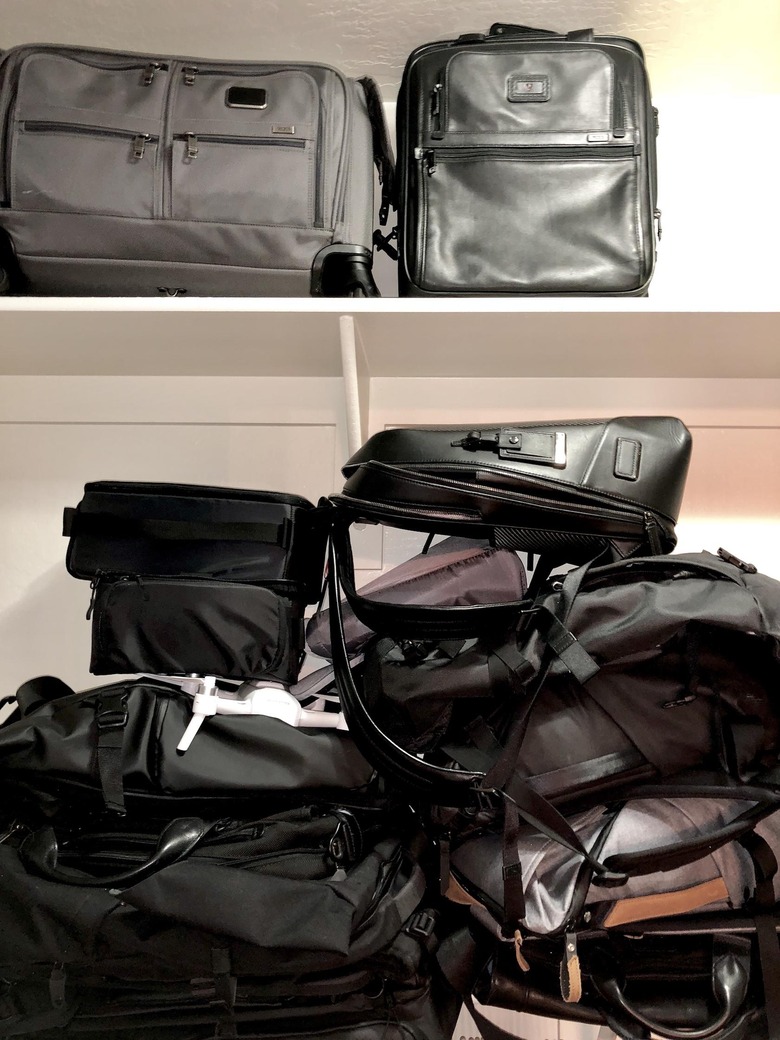 Some bags, such as the AER, Timbuktu, and Boundary, are perfect for a two-day trip, but simply won't stretch to three or four days of international travel. The Mission Workshop Radian travel pack, meanwhile, can fit everything I need and then some, but the design doesn't allow for quick access to my laptop or other accessories I need during the journey. The issue with these big volume bags isn't that you can't fit everything in them, it's the massive weight you have to lug around.
The big "pain" point – pun intended – with carrying a bag over 35 pounds on your back is the considerable weight pulling down on your shoulders. Every single all-in-one travel bag I've tested either has cushions that are either too thin or too thick or more importantly they lack the rear back support to adequately offset the overall weight.
I need a bag that's durable, flexible in its configuration, and which allows for a lot of compartments when I need them during transit, but which can be omitted when I don't. Like I said, each trip is different and one of my biggest must-haves is a bag that adapts accordingly. That single, all-encompassing bag may fit everything you need, but it's probably too unwieldy when you've arrived and simply need to carry your laptop and a few essentials.
As a result, I've settled on a two bag solution, with a slimmed-down secondary bag paired with a rollerboard for clothes. The smaller backpack or folio can handle everyday items, and both are preferably waterproof and rugged enough to withstand being thrown about and not demand nannying. Enter, then, the Mission Workshop Radian.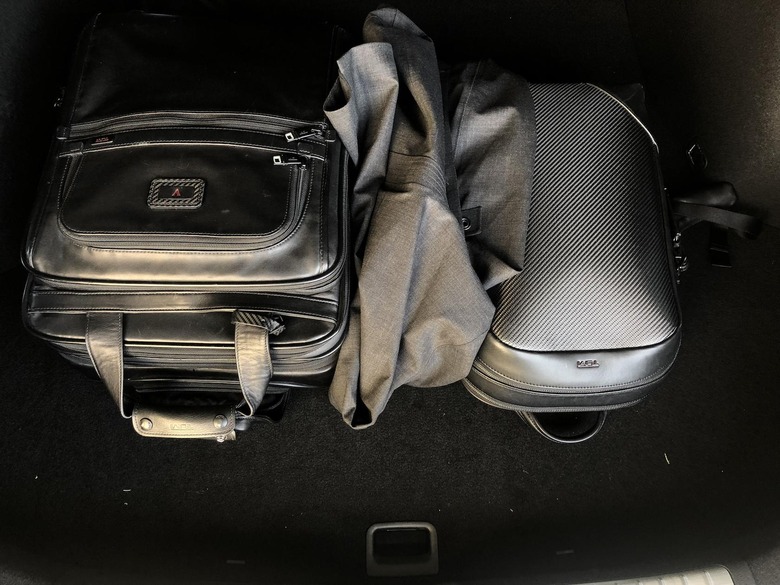 So what is the Radian travel pack?
Here's the top level: the Radian is effectively a backpack without wheels, with a 42-liter internal compartment designed for you to carry on your back as a carry-on, or that can survive being checked luggage. Why might you want a checkable backpack? On some commuter airplanes, the overhead compartment is either smaller than average or effectively unusable: your bag can only go in the hold.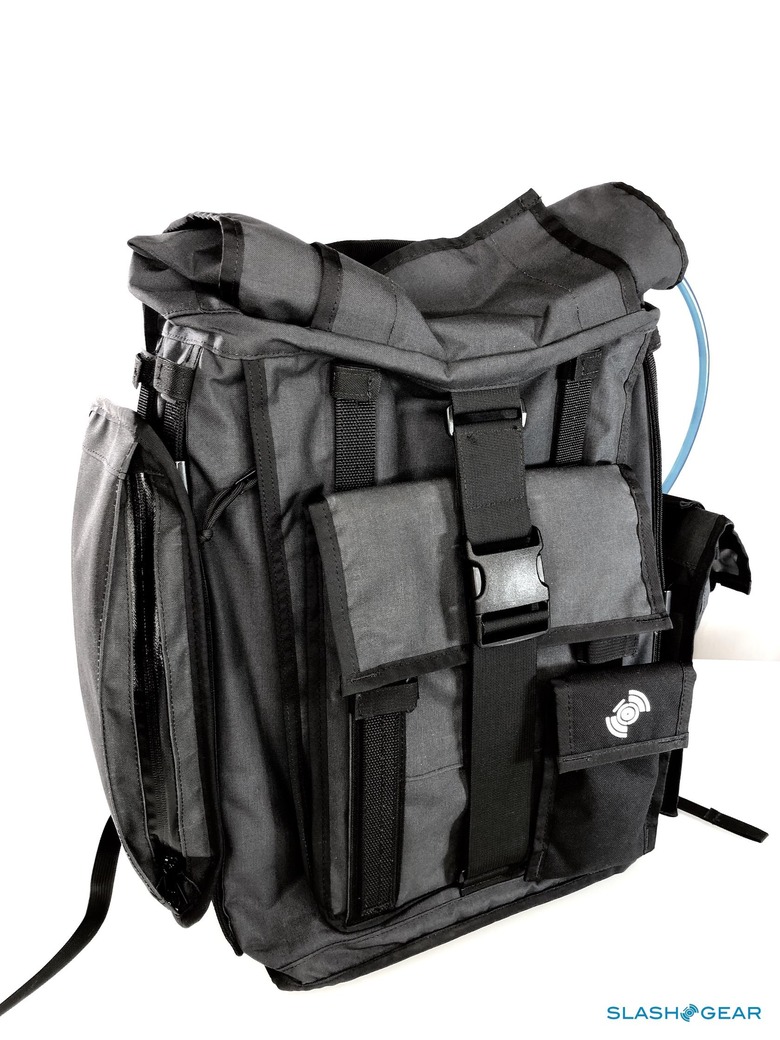 Mission Workshop treats that as an element of the core design remit, not as an afterthought. Indeed, it's an essential part of the pack. If you have to check it in, you roll out the back cover from the bottom section, tuck in the shoulder straps, pull up the zipper, and that's it. No straps to get caught in conveyor belts or torn.
They may be stowable, but they're not uncomfortable. The back panel of the Radian pack is thick, supportive in the right places, and it's breathable. No more sitting down after rushing between connections, only to discover the back of your shirt is sweaty and sticky. Meanwhile, the panel that the sternum straps attach to are fully adjustable vertically and attach to a lightweight aluminum frame inside. That gives the bag the structural support your neck, shoulders, and spinal cord requires when you're trekking from terminal to terminal at bigger airports, or indeed on long bike rides.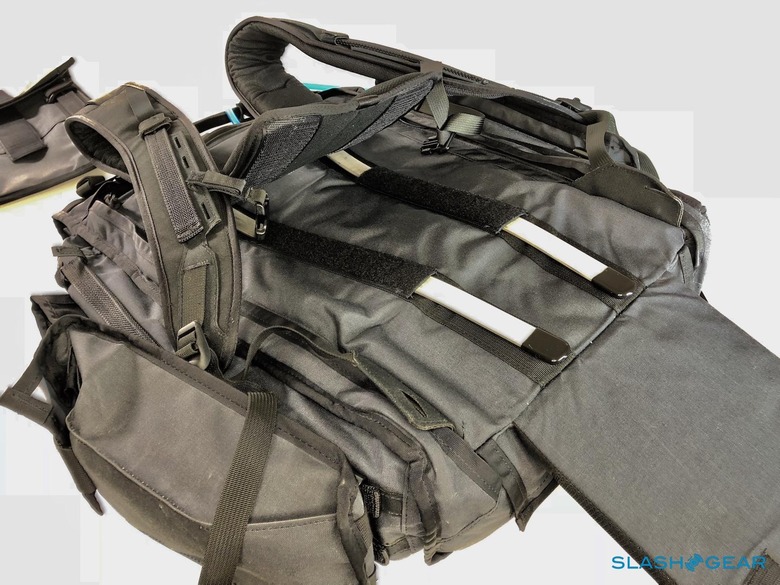 Believe me when I say it makes a huge difference to how the bag feels overextended us. On my last two trips, everything I'd packed – including the Radian pack itself – totaled up to over forty pounds. The same amount of gear in the WANDRD and VELAMACCHI bag felt at least ten pounds lighter when it was on my back. Obviously, the weight didn't change, but the weight distribution certainly did. I've not found anything that comes close to how Mission Workshop's design spreads the weight across the two thick shoulder pads and then down to the supportive aluminum frame.
Another commonly overlooked feature is weatherproofing, and I don't mean a few sprinkles here and there. I took the Radian to Atacama, where the climate can run the gamut from oven-like desert heat to sub-freezing temperatures with snow on the ground once you reach the 15,000-foot peaks. Not a problem for the bag, though, which kept all my electronics safe from the dust; I promptly rewarded its good service by getting it absolutely soaked in Detroit, conditions it shrugged off just as easily.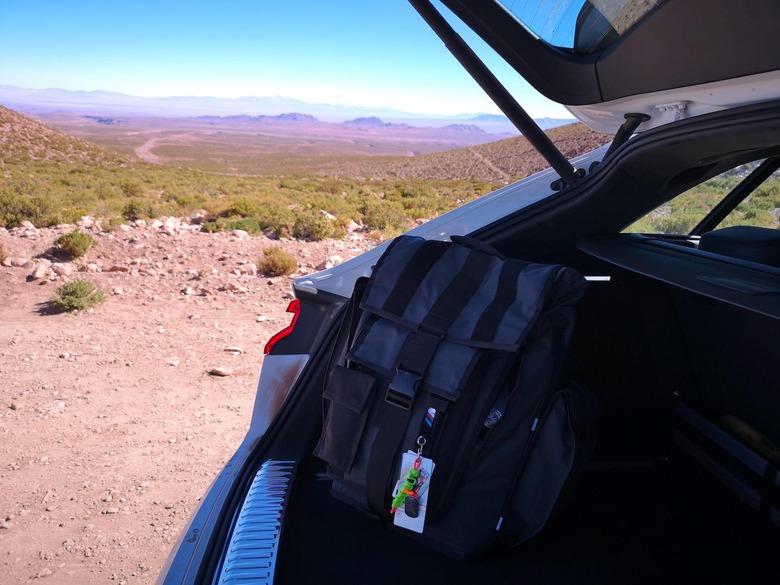 Maybe it's a camera, or a laptop, or something else you need to carry for work. The underlying issue is that we're often transporting thousands of dollars worth of equipment when we travel, and although insurance might replace it should the worst happen, avoiding that worst-case scenario in the first place is always preferable. Back in those Detroit downpours, I left the Radian sitting in the rain for roughly ten minutes, and not a drop made it inside.
That's down to a double layer construction. For the outside, Mission Workshop uses a custom high-tenacity 500d nylon it calls HT500; after ten minutes that was drenched and soaked all the way through. Yes, it's treated to be water-resistant, but that's really just designed to shed a few droplets or a spill. What saves things is the floating liner, a completely sealed inner compartment that's bonded to the HT500 fabric, keeping everything inside dry. Mission Workshop finishes the whole thing off with specially-designed zippers that are water and dust resistant and managed to keep both rain and Atamaca desert sand from getting in.
It's worth mentioning that the back panels, straps, and HT500 fabric do require time to dry. I found standing the bag upright so that the back panel can dry completely is best. The bottom, meanwhile, is completely sealed, though there is a small compartment – that holds the flap for the back of the bag when you need to close up the straps – that you need to open up and pull out the flap to let it drop because that section does get wet. Inside the pouch, there's a lining that seals off the internal compartment, and as long as that area doesn't get torn up or breached, things inside should stay dry.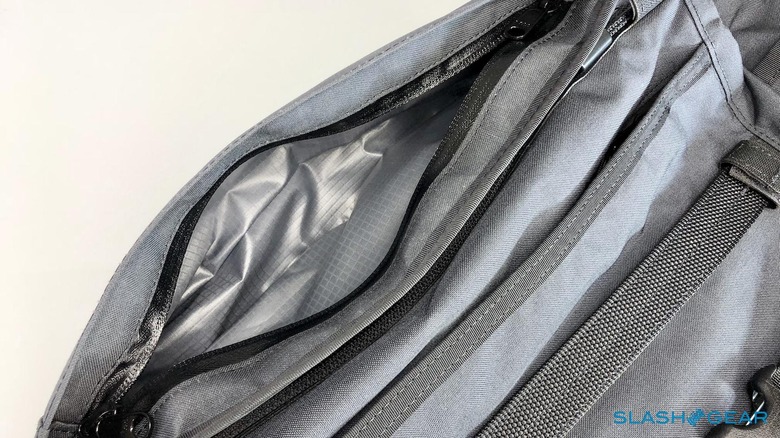 That touches on an important point: quality and construction of the materials. Bags get rough treatment on the road, with backpacks getting shoved under seats or dumped into the overhead bins on airplanes countless times. The most significant issue there, in my experience, is that the bottom supporting mesh material can rub against the abrasive floor, causing it to wear exceptionally quickly over time. Happily, the Radian pack escapes this fate, again thanks to some clever design. The back cushion is mounted higher, for example, so it's not the first point of contact when you slide the bag under the seat. Secondly, Mission Workshop toughens this crucial point of contact with an extra coating to protect the mesh.
That high-tenacity yarn seems to have no problem withstanding repeated rubbing against other harsh materials. Indeed, it even improves with it. After the bag dried from being soaked in the rain, it ended up with an interesting patina reminiscent of naturally distressed leather.
Bigger isn't always better
When I initially saw pictures and videos of the bag, my first thought was that it looked gigantic; indeed, I doubted it would be particularly straightforward to carry around. When fully compressed, it's 22-inches high, 14-inches wide, and 6-inches deep. Fully extended, the height of the bag comes in at 26.5-inches. A dedicated laptop compartment on the back securely zips up and can hold up to a 15.5-inch€ laptop.
Still, if you tend to stuff your bag to the max and intend on taking advantage of the full 2,563 cubic inches or 42 liters of storage, I'd recommend adding the ARKIV laptop sleeve. Without that, if the bag is tightly packed, the filling can apply pressure onto the laptop section, making it difficult to slide your computer in and out.
Empty, the Radian weighs 4.69 pounds, which is reasonable in my opinion. A 15-inch MacBook Pro, for instance, weighs in at a hair over 4 pounds, so all things considered the weight of the Radian isn't too shabby. Adding on additional ARKIV accessories will tack on more weight but, personally, I think they're worth it. For instance, the AXIS ($120) weighs 8 ounces, the ARKIV Laptop Case ($90) weighs a hefty 1.5 pounds, the ARKIV Vertical Rolltop Pocket ($50) weighs 0.5 pounds, the ARKIV Vertical Zippered Pocket ($54) is 0.5 pounds, and the ARKIV FOLIO ($72) weighs 1.1 pounds. The Large ARKIV Cell Pocket ($28). Each can attach to rails along the front and sides, and if you have accessories from another bag from the company you can use them with the Radian too.
Mission Workshop also designed the Radian with a water bladder in mind. In fact, you can stow a 1.5-liter bladder in there, freeing up the zippered water bottle compartment for other essentials. I found it well placed for my passport, phone, and other valuables. Unlike other Mission Workshop bags, the entire front panel zips open, offering full access to the guts of the bag; you can also dig in from the top via the roll-top closure.
The front flap doubles as a compartment large enough to hold magazines, books, or a reader. On the inner left and right sides are two more zippered mesh pockets, for wires and smaller items. On location, the AXIS, laptop sleeve, and the Folio can all be used as standalone items. For those carrying a more significant load, there's an optional Radian-specific Expedition Waist-Belt for $79.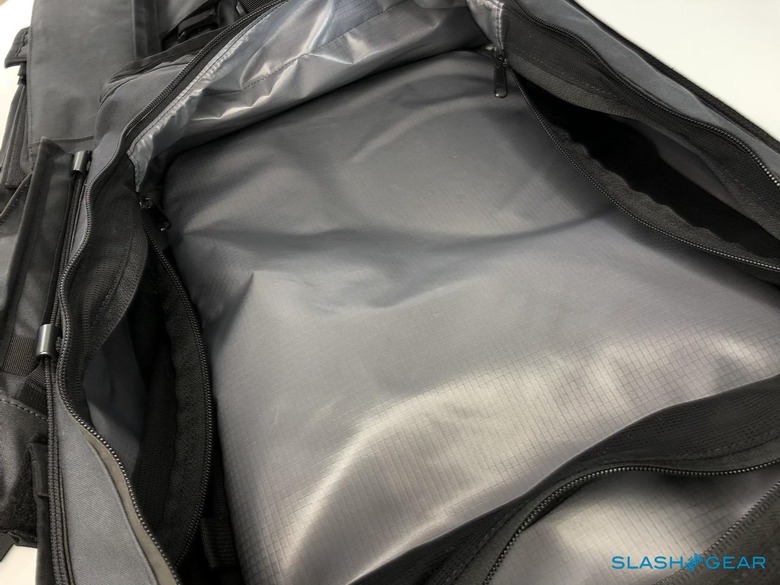 If you're currently thinking "wow, that's one expensive system on top of all that additional weight with the add-ons," I can't disagree. $1000 for a bag is expensive, and it's not for everyone. On a weight front, the entire system tips the scales at roughly 9-pounds, which seems a conservative given all the flexibility you're getting.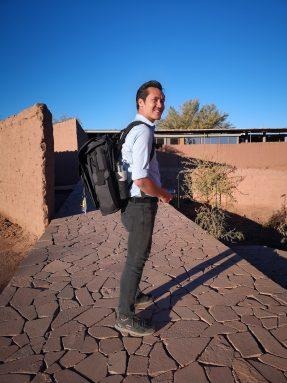 As for the price, who in their right mind would pay $1000 for a backpack? Well, I might not like to think about it, but I have – and I doubt I'm alone. Total up what the average bag-fiend spends – in my case, on everything from Tumi to no-name brands to Kickstarter projects – it could easily outweigh just this one Mission Workshop system.
Few, if any, of those prior purchases, come with a lifetime warranty, either, as the Radian does. "If any of our products ever fail as a result of defects in materials or workmanship," the company says, we'™ll repair or replace them with a like item free of charge and cover the shipping back to you."
Verdict
We spend a considerable amount on the gear we carry around with us: a laptop, a phone or five, external hard drives, iPads, memory cards, and more. How often, though, do we stop to think about the bag that's being used to transport all that? Or, worse still, what happens when you're caught in a massive downpour or harsh conditions where sand and dust seems inescapable?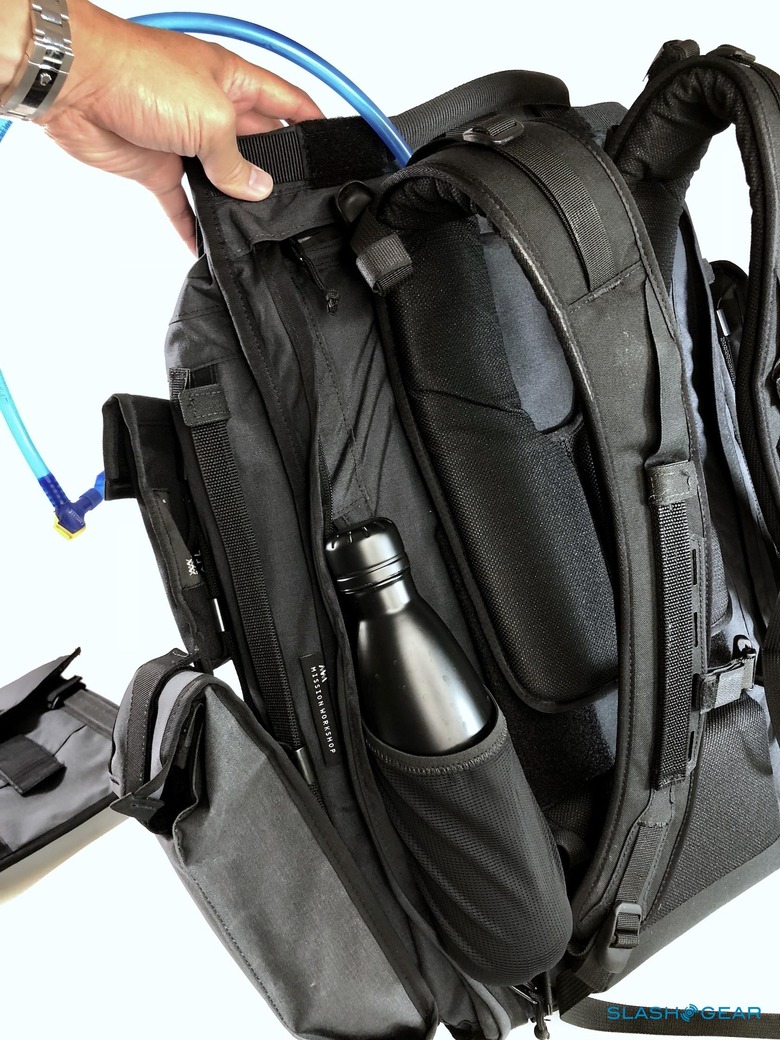 If you're lucky, you think about those things before you experience them – and have the right equipment to protect your hard-earned gear. Yes, Mission Workshop's may be expensive, but if you think of it as preemptive insurance the price tag makes a whole lot more sense. I've no shortage of bags in my closet, each promising plenty but falling short in one way or another. Of that catalog, and after thousands of miles of testing, I have to say that the Radian travel pack is by far the best I've used. Be sure to follow me on Neoteric Men's Instagram account for future adventures.