Bose Soups Up Mazda MX-5 Miata For Better Open-Air Acoustics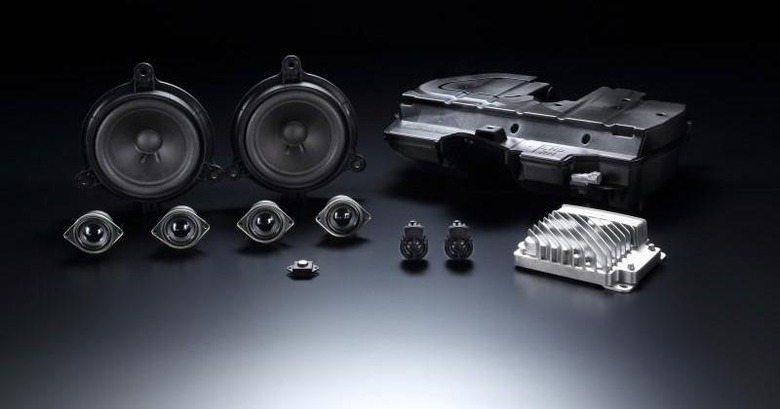 The 2016 MX-5 Miata was slowly but surely turning out to be Mazda's return to glory as far as the Miata line was concerned, delivering the unique experience that only open-air driving can deliver. But while the 2016 Miata's top-down mode lets you enjoy the breeze on your face, physics tells us that it may come a price of a sub par audio experience. Worry not, however, because sound experts Bose are on the scene, tweaking the MX-5 Miata's sound system to ensure clear audio, whether the top is up or down.
You'd expect that in open-air driving, the sound coming from the car's speakers would be competing against the louder and more pervasive ambient noise. That is exactly what would happen according to Bose if it didn't get to work on the newest Miata. So how does Bose accomplish this miracle of engineering and physics?
The first answer is simple enough. The 2016 MX-5 Miata's sound system has two distinct Equalizer settings, one for when the top is up, which is the normal mode of operation. When the top is down, on the other hand, the second EQ settings kick in. This one teams up with Bose AudioPilot 2 which tries to compensate for the ambient noise resulting in open-air driving.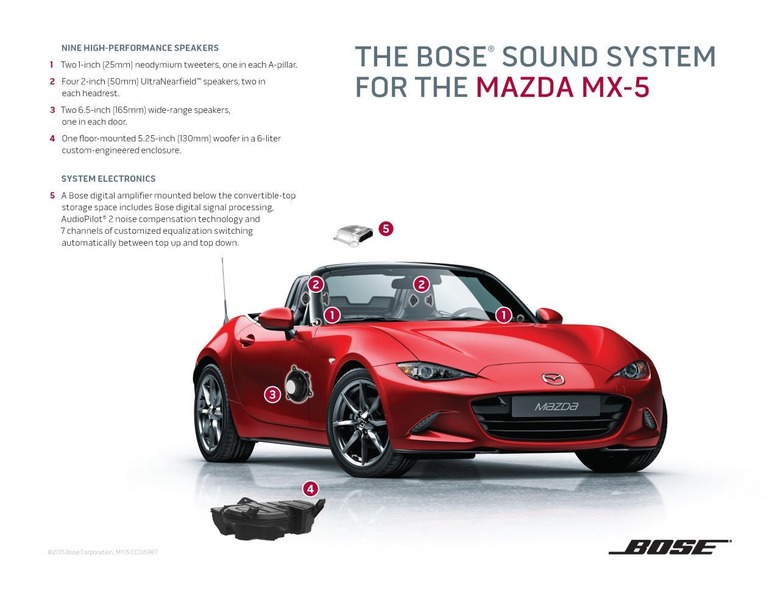 The real star, or stars rather, are the Bose speakers, and the Miata has a lot of them. There are two pairs of 2-inch speakers, one for the driver headrest and the other for the passenger. Unlike conventional speakers that are simply embedded into headrests, these are specifically designed to cover a wide sound stage, making the drivers feel they are enveloped by sound rather than just coming off from behind their heads. But wait, there's more! A pair of 6.5-inch speakers are also placed in each door. And there are also 1-inch tweeters in each of the A-pillars. A 5.25-inch woofer is housed in a custom enclosure under the front passenger footwell. And finally, a 7-channel digital amplifier hides below the car's storage space. All of these work in concert to deliver superb audio even if, and especially when, the Miata's top is down, promising the best worlds of open-air driving and open-air listening.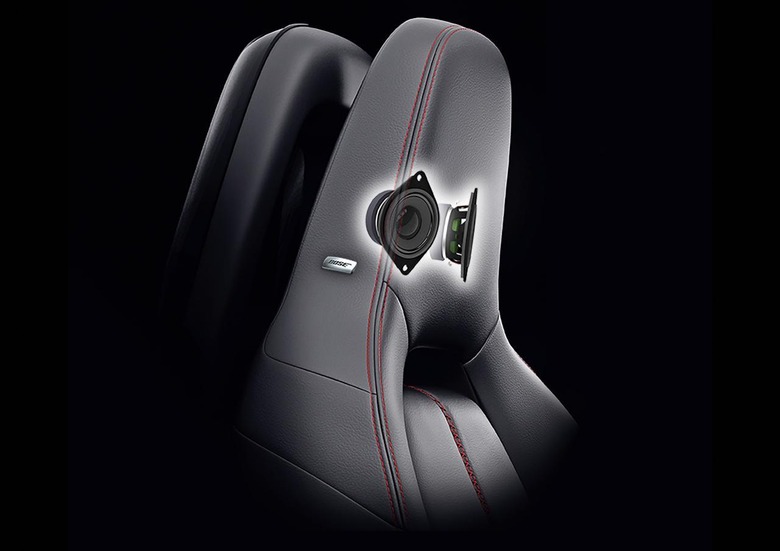 Bose has been present in every Miata model since 1998, so it isn't surprising to see it here again. The 2016 Mazda MX-5 Miata is slated to hit retail this summer, with a starting price of $24,915 for the Sport model.
SOURCE: Bose