Bose SoundTouch takes on Sonos in whole-home streaming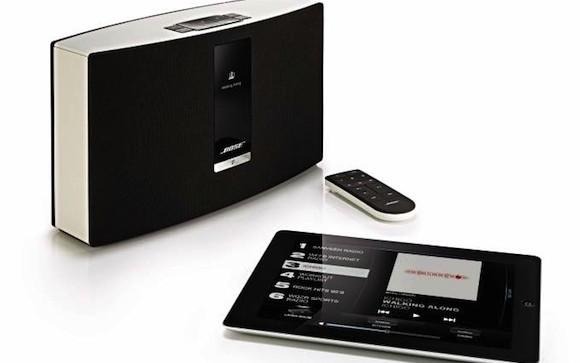 Bose has launched a whole-home streaming music system to take on Sonos, Bose SoundTouch, pushing locally-stored and internet music to multiple speakers over a WiFi connection. The three speakers in the new streaming range – the SoundTouch 30, the SoundTouch 20, and the SoundTouch Portable which is the only model with an integrated battery – aim to make finding favorite stations more straightforward with six preset buttons on each unit. Once set up, the presets are synchronized across every speaker in the network, with the source shown on an OLED display on the front.
That means no trying to remember whether shortcut three was the same internet radio station – or indeed an album, artist, or track – in the living room as in the kitchen, since it will be the same in all locations. At launch, Bose will allow streaming from around a thousand internet radio stations along with Pandora, though not Spotify or the other options that Sonos already supports.
Control of the presets – and of switching through any of the sources – is via Bose's SoundTouch app, which will be released both in a desktop version for OS X and Windows, and a mobile version for iOS and Android. Content can be streamed locally from the device itself, or from network-shares.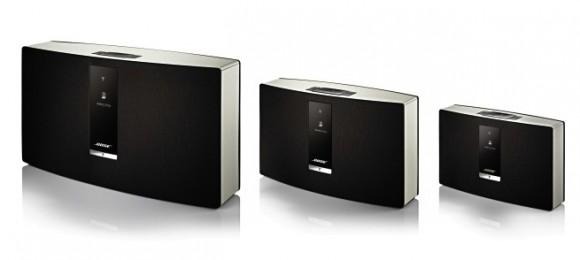 However, there will be a way to get Spotify and other sources to the Bose system. AirPlay support means that those with iOS devices can stream direct to a SoundTouch network, controlling the content from their iPhone or iPad directly rather than through the Bose app itself. A 3.5mm aux-in port allows for non-wireless sources to be piped through, too.
The SoundTouch 30 is the largest model of the new range, priced at $699, while the SoundTouch 20 is $399. The smallest SoundTouch Portable is also $399, though you trade power for portability. All three go on sale from today.
Bose will also have a SoundTouch-upgraded version of its Wave system for launch before the end of the year, which will slot in-between the SoundTouch 20 and 30 at $599. Then there'll be more devices expanding the line in 2014, including a dedicated remote and outdoor components with SoundTouch baked in.