Bose SoundLink wireless USB speaker system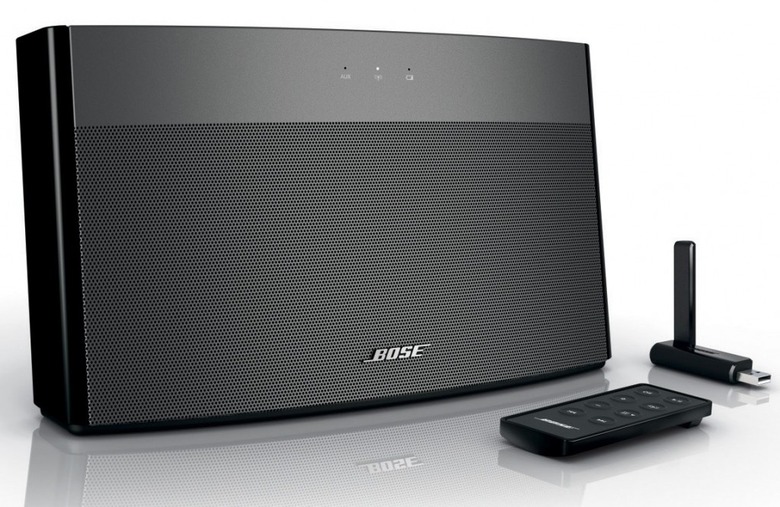 Lifestyle audio firm Bose have announced a wireless music system, the SoundLink, which promises to free your audio from its PC or Mac prison.  The setup consists of a battery-powered speaker, complete with remote control, and a USB transmitter dongle that plugs into your computer.
Bose are staying coy on specific details, such as wireless range – it's only described as "long" – and speaker power, but they do say that the rechargeable battery is good for up to three hours of full-volume playback.  Inside there's Bose's waveguide speaker system, as seen on their all-in-one CD player/radio systems, which promises "room-filling, high quality audio". 
We're assuming the dongle shows up as a USB sound card and thus funnels any audio from your computer out through the SoundLink speakers.  There are touch-sensitive controls on the unit itself, though only for volume; everything else, including track-skipping, is on the small remote.  An auxiliary input allows you to plug in a PMP or other sound source.
As you might expect, given the Bose brand, the SoundLink doesn't come cheap.  Expect it to set you back $549.95 when it hits stores from August 27th.
Press Release:
New Bose® SoundLink™ Wireless Music System

2009-07-17 01:53:06 -

Today, Bose has introduced the SoundLink ™ wireless music system, a one-piece portable speaker system that allows users to play music from their computer — wirelessly — in and around the home.

The new SoundLink ™ system was designed as a simple solution for people who listen to music stored on their computer, but don't want to be at their computer to enjoy

it. Setup is easy. No software or Wi-Fi connection is required. Just plug the included SoundLink ™ USB key into the computer, select music — from iTunes ® , Pandora ® , or any other Internet radio or music source — and the audio will stream to the SoundLink ™ system via a long-range wireless link that works through most walls and floors.

"Many people use a computer as their primary source for music," said John Roselli, category business manager for Bose Corporation. "But that convenience and experience is diminished by having to be at the computer to hear it. The Bose SoundLink system unlocks that music, streaming it almost anywhere in the home –- even outside –- quickly and easily."

For added flexibility, a rechargeable lithium-ion battery is included, making the SoundLink ™ wireless music system truly portable.

It's charged by the system's AC power supply — no outlet is required.

The battery provides all the power the system needs for up to three hours when played at full volume or for longer periods at more moderate listening levels.

Advanced Bose engineering in electronics efficiency and speaker design enable the same high-quality audio performance whether plugged-in or operating on battery power. The SoundLink ™ system features a proprietary acoustics package, which combines exclusive Bose waveguide speaker technology and neodymium transducers to deliver room-filling, high-quality audio from a very small enclosure.

The system's infrared remote control operates the power and volume, and can send transport control commands to most applications, allowing users to skip tracks or play/pause from a distance. Touch-sensitive volume buttons also are located on the unit itself.

Although designed primarily for wireless connectivity to a computer, the SoundLink ™ system features an auxiliary input for connecting additional audio sources, including an iPod, iPhone, MP3 player or CD player.

The new SoundLink ™ wireless music system comes in Gloss Black, and will be available from Bose beginning August 27, 2009, for a price of $549.95. It will be sold at authorized Bose dealers, Bose retail stores, www.Bose.com : or toll free at 1-800-444-BOSE (2673).

About Bose Corporation

Bose Corporation was founded in 1964 by Dr. Amar G. Bose, professor at the Massachusetts Institute of Technology. Today, the company is primarily known for its research in acoustics, which has produced inventions that have improved the performance of.

- Loudspeakers

- Home entertainment systems

- Automotive music systems designed for the interior acoustics of each car model (first introduced by Bose)

- Noise reducing headsets for pilots and the public (first introduced by Bose)

- Sound in public spaces

- A new approach for the production of sound for musicians requiring electronic amplification of their instruments

- Materials testing and durability simulation instruments for biomedical applications