Bose Bluetooth Headset Review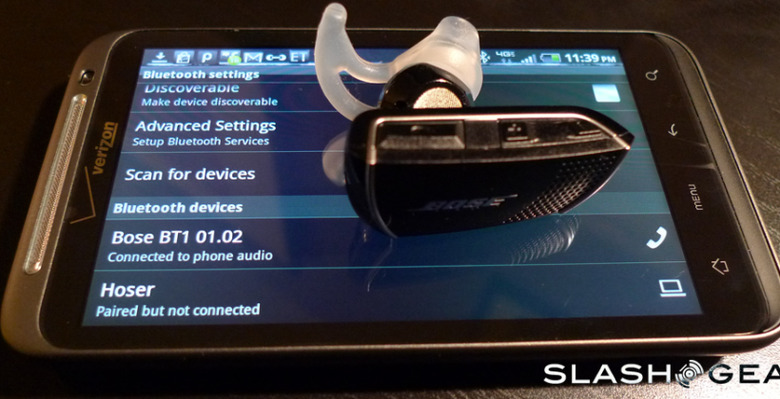 The following is a review that, for any other product, might be considered short, but for this bluetooth headset, there's just really not that much to be said. And it's not just a pumped up yelling and screaming "I LOVE IT" situation either, though there is a little bit of screaming in the story. This is a review of a product that essentially does one thing, and it does it well. What this product presents is noise cancellation and comfort for a premium talking and listening experience both to and from your ear and mouth and via Bluetooth to and from your handset.First Impressions
When you hear the name Bose, you know it means superior quality audio. Their ultimate marketing campaign was and always will be the the display they had set up in Target stores across the USA, the one where they played the T-Rex portion of Jurrasic Park to show off the surround-sound experience you'd get if you went with Bose for your speaker system. I remember walking directly over to that area of the store just to hear that part of the movie in that environment over and over again, thus the power of both the actual sound quality and the branding going on with the display.
My brain was taught that Bose meant quality.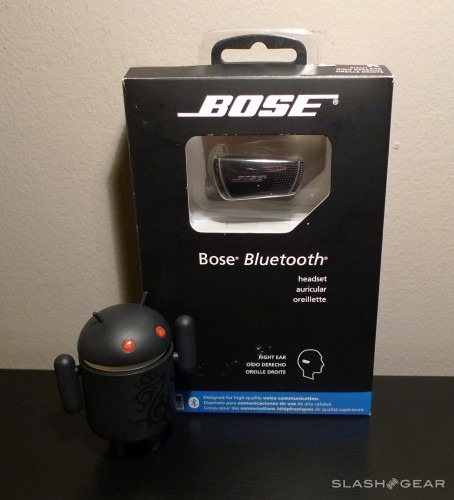 Now for this Bluetooth headset – it's made by Bose. I instantly knew what I had in store for me. Not only do I trust Bose as a name in audio, I know they mean business when they release a new product. I don't mean to be seen as a fanboy of a brand here, but Bose has literally never let me down when I decided to go with them for a speaker system in any form. Therefor, I had pretty high standards for this headset.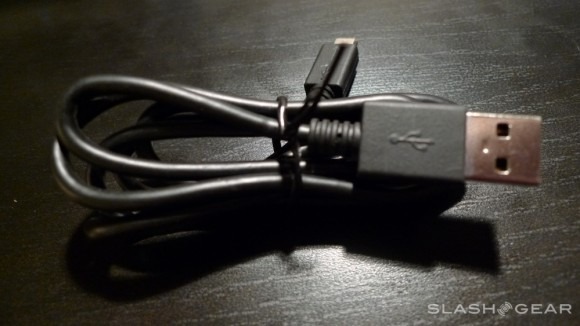 When I first opened the box, I was surprised by the lack of equipment that was inside. I suppose that I'm not sure what I was expecting to find, but the fact that this giant box served only to contain a few items – it was strange: the headset, a couple extra headpieces, USB cord, wall plug, instructional books, and click-open pocket carrying case. I realized than that this was still the tail end of the hardware age, the age when we still purchase tiny objects in gigantic boxes so that the store shelves can be filled and items stand less of a chance of getting stolen. Remember when computer games came in dictionary-sized boxes? Remember when dictionaries were still printed as physical books?
Making it Work
Once the box and plastic is aside, and you've got the instruction books put away somewhere safe incase you need them, you really ought to charge the earpiece up a bit. The Bose Bluetooth Headset comes partially charged, but if you plan on getting any use out of it before it runs out of juice, you'll want to plug it in for a while. To do this, just plug the USB into the device, plug the other end of the USB into the coolest wall plug ever constructed by mankind, and plug that epic wallpiece into the wall. Before we continue, please check out all the printing on this plug – it's awesome: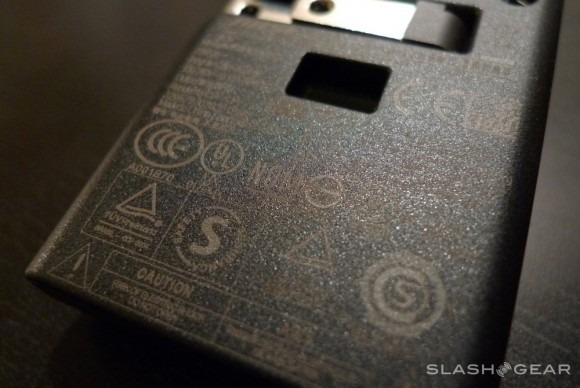 Once your headset is charged, flick the on switch so that it reveals green instead of red, then hold down the phone icon button until the Bluetooth light blinks blue SLOWLY. There are two different ways the Bluetooth light can be blinking, and more than likely, your device will be blinking quickly when you first turn it on. Once it's blinking slowly, you can search for it on the device you'd like to pair it with. There is an option to pair with more than one item, but for the sake of brevity, we'll just go into one.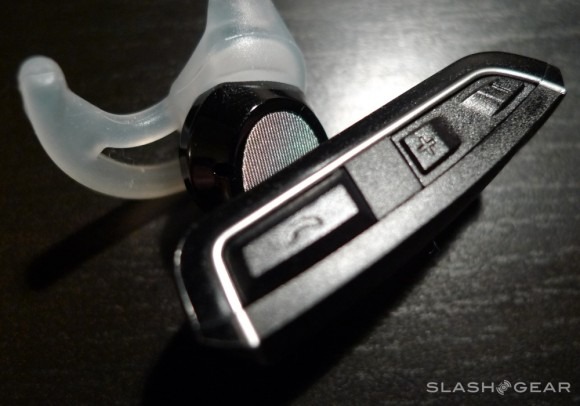 Your Bose Bluetooth headset, like ours, should show up on your Bluetooth list wherever it may be. I connected this Bluetooth Headset up with the brand new HTC ThunderBolt on Verizon. Once I'd pressed the phone button long enough for the light to blink slowly, the Bose name came up on the list almost instantly, and I was able to sync up without even entering a password. Once the two items were synced, they were set to go for the entire time I was testing them.
Daily Use
I must admit that when I'd seen people wearing headsets similar to this one out in public, I found myself comparing them to the Borg, or in general to total weirdos who love big earrings. Once I placed the headset on my right ear, all that changed. Not only was it comfortable, it felt oddly satisfying to have connected to my head. Inserting the earpiece feels very similar, in a way, to putting on a pair of glasses. It gives the impression that it's meant to be there and that it's helping you out in your daily activities, activities such as communicating with other humans, wirelessly!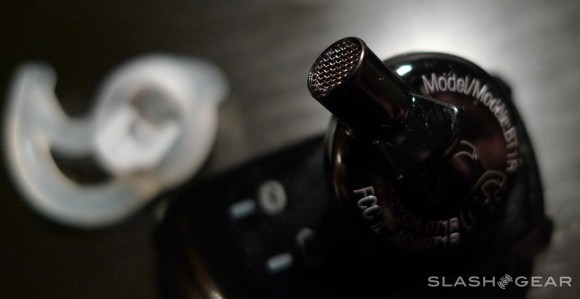 As far as sound quality goes, this is the tops. The only superior sound quality that my ears have personally experienced via a headset was a pair of Bose noise-cancellation headphones, the kind that cover your entire ear. And that's saying a lot, especially since the sound was not only being transported to my head via Bluetooth connection, it was being blasted through space via telephone!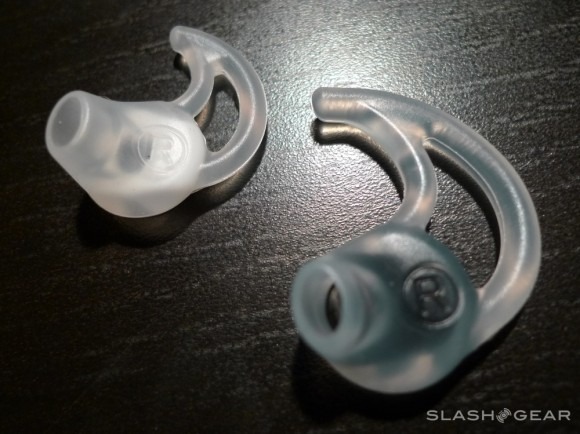 On the several calls I made and received with this headset, I only had to ask a couple times of the person on the other end to repeat themselves, they never having to ask me a single time. This is actually an improvement over my normal phone experience.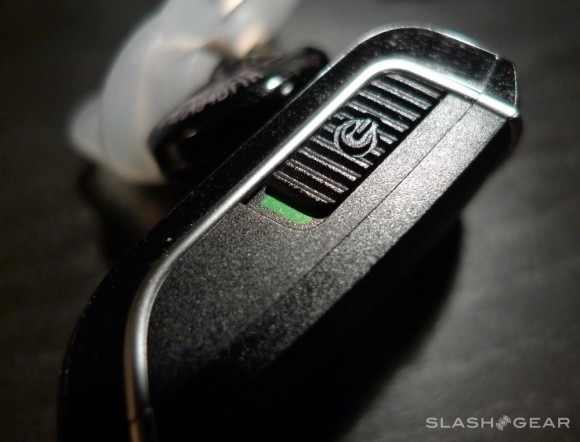 This device is capable to taking your voice and canceling noise around it, of turning its own volume up when you're in a noisy area, and of basically making your life a lot easier when you're attempting to make or receive calls and have no hands free to be holding up a phone. When you press the phone icon button, you're prompted to make a command – you're able to call anyone in your contacts list without taking your phone device out of your pocket. You can adjust volume via the volume dongle and switch the device on and off via the simple switch.
Wrap-Up
This headset does what it says it does, and even whilst walking through a mall containing a screaming pack of wild children creatures, a call I was on was not interrupted. Noise cancellation is at a point in our tech history where we've basically got it down to an art, and it's pretty darn cool. Bose has created here a slick earpiece that allows you to connect to your handset while it's in your pocket. It does just that, and it does just that extremely well.
As far as how you look when you've got one of these in your ear and you're walking around the grocery store talking to yourself – that's an issue you're going to have to deal with all on your own.