Bosch buys HERE stake to turn cars into autonomous cartographers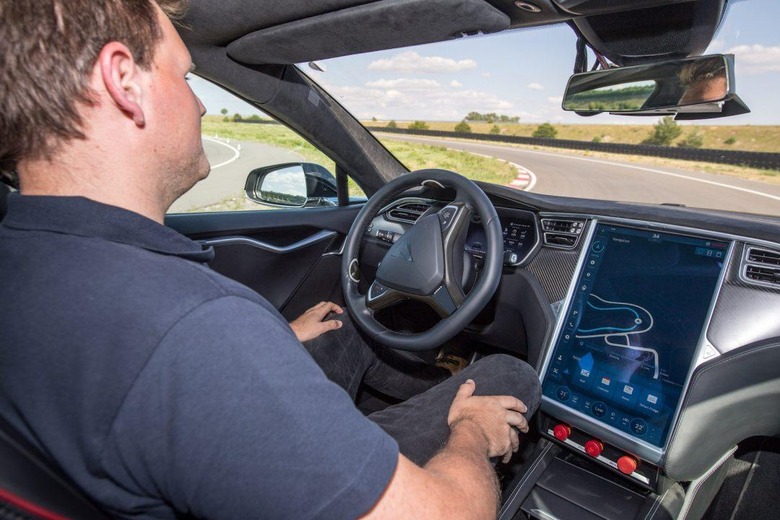 Bosch is buying a stake in HERE, snapping up a 5-percent cut of the digital mapping company building high-definition cartography for tomorrow's autonomous vehicles. HERE began life as Navteq, before being acquired by Nokia, rebranded, and then subsequently sold in late-2015 to a consortium of German automakers, Audi, BMW, and Mercedes-Benz owner Daimler AG.
Twelve months ago, it added Intel to that list, with the chip-maker taking a 15-percent stake. Now, it's adding another owner to the heap. The car companies have agreed to sell a 5-percent stake in HERE to automotive parts supplier Bosch, in addition to collaborating on new mapping technology that would facilitate real-time updates – aka "self-healing" – of the map. That's going to be essential if self-driving cars are to stay on course.
HERE already does that, using its existing traffic monitoring system. By receiving a few simple, anonymized metrics from vehicles – which can be as little as heading, speed, and location – it can figure out how traffic is flowing and where roadways may have diverged from existing maps. A deal with BMW, announced yesterday, will see the automaker not only be the first to use HERE's Safety Services Suite of live road conditions, but feed data from its cars' use of hazard and fog lights, emergency brakes and electronic stability control, and cameras into the cloud.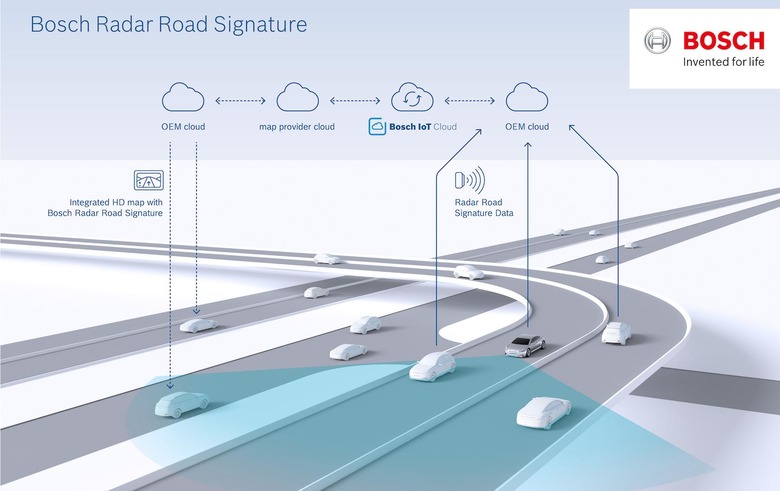 Bosch's idea builds on that. By tapping into the Bosch-supplied radar and video sensors already installed in many vehicles, the so-called road signature could be fed back to HERE. "Bosch and HERE are exploring opportunities to utilize road signature in the maintenance of HERE HD Live Map, HERE's map for automated vehicles," the company said today, though it will also continue its separate projects with TomTom, Baidu, and others.
Still, it could have big implications for self-driving vehicles. While autonomous cars have no shortage of sensors for tracking what's going on in the road around them, whether that be other traffic or pedestrians, they also need high-definition mapping data to pinpoint where they are in 3D space. Where traditional maps may have the basics of number of lanes and junctions, "HD maps" ramp up the degree of accuracy considerably, potentially including everything from the location of curbs to road camber and exactly where turning lanes begin and end.
Mapping all that out to begin with is a huge challenge, but then maintaining the accuracy of those maps is even more arduous. Unlike human drivers, who can usually improvise if the data on their navigation system doesn't exactly match with what they're seeing around them, autonomous cars will be far less flexible. That's forced some imagination in ways to keep the maps up-to-date.
Turning cars themselves into roving cartographers is one of the more popular ideas. Modern vehicles are already bristling with sensors, used for features like adaptive cruise-control and lane-keeping assistance. Adapting the data from those to digital cartography is just one step further.
While it's a significant part of the deal, Bosch isn't just thinking about HERE's value in driverless cars. The company is also looking at how high-definition indoor navigation mapping could streamline and automate how goods flow through production lines, or guide maintenance staff to problems in the sprawling facilities. Assuming all goes to plan, the acquisition is expected to close by the end of Q1 2018.