Bosch And Daimler Team To Make Fully Autonomous Vehicles For City Driving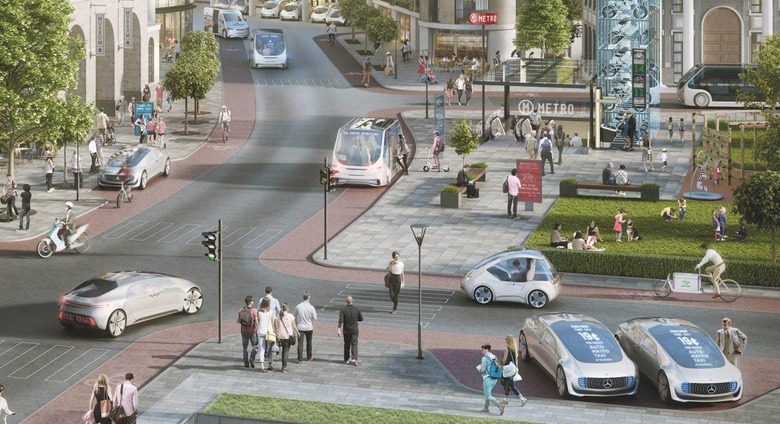 Bosch and Daimler have announced they will work together to create 'fully automated, driverless vehicles' designed specifically for use on city roads. The alliance aims to get such vehicles on public streets at the beginning of the next decade — that is, in the next handful of years. Among other things, these vehicles are designed to make the roads safer while decreasing congestion.
Cities pose unique transportation issues, and autonomous cars are poised to address many of them. Bosch and Daimler's fully automated and self-driving cars will aim to do the same, including helping traffic to flow better and making the roads safer for everyone, according to the companies. As well, the duo anticipate their vehicles being an 'important building block' for the future of city traffic.
What kind of vehicles are the companies going to make? The entire scope of the project isn't clear, but it will include automated taxies designed specifically for use in urban traffic environments. These vehicles will be SAE-Level 4 automated and SAE-Level 5 self-driving, with Bosch providing hardware and systems while Daimler is the powerhouse behind the vehicles.
Once available, everyone will benefit from such automated vehicles. Drivers will have more time to complete personal projects, for example, by being able to focus on their work instead of on the road. Even better, driverless individuals will have a new, arguably better, transportation option for getting around that is faster and more reliable than buses. The companies' say riders will be able to use their phones to order rides from these automated taxis.
Clearly, neither company is alone in such ambitions. Uber's – in many ways ill-fated – driverless car project is being developed explicitly with the purpose of replacing human drivers for the ridesharing service. Indeed, Mercedes-Benz is hedging its bets on the prospect, agreeing a deal with Uber back in January that would see self-driving cars from the company pick up taxi clients through Uber's app.
NOW READ: Riding Mercedes' F 015 autonomous concept car
All the same, there's a considerable difference between outlining an ambitious project to put computers at the wheel and actually getting such a scheme up and running. Although Bosch is undoubtedly in a prime position to help achieve that, being one of the largest automotive parts suppliers in the world, there are untold regulatory hurdles to be navigated. In the US alone, different states have different rules for self-driving vehicles, license them differently, and envision different ways in which they'll coexist with human drivers. That, experts in the industry agree, isn't going to be cleared up any time soon.