Borderlands 2 Hammerlock DLC suffers big leak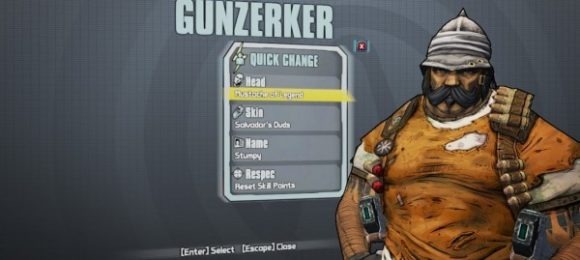 We know that the next piece of DLC for Borderlands 2 will be called Sir Hammerlock's Big Game Hunt, but at the moment, that's the only thing we "officially" know. Gearbox isn't willing to part with more details at the moment, but thankfully the Internet is here to fill in the blanks. Today a number of reported screenshots from the DLC and a bevy of information about the expansion itself have surfaced, giving Borderlands 2 fans a lot to salivate over.
The screenshots first surfaced on MP1st and Examiner, showing off a number of new costumes and guns players will be able to use. Meanwhile, over on Reddit, one user was busy dishing all sorts of details on Sir Hammerlock's Big Game Hunt. Apparently this expansion is going to take place on a new jungle continent called Aegrus, which features a new "self-important but not-so-well-known" enemy who leads a tribe of jungle savages.
Each character is set to receive a new skin and a new head in Sir Hammerlock's Big Game Hunt, with new enemies to gun down and new Seraph items to collect. The DLC currently features 12 side quests and 5 main story quests, with a special treasure room that will grant all kinds of goodies, but imposes a time limit on players. Here's a description of Sir Hammerlock's Big Game Hunt that was discovered by this particularly resourceful Reddit user (who also uncovered details about the Mr. Torgue DLC prior to its launch):
Danger! Excitement! Mustaches! It's time for another episode of Vault Hunter Adventures, featuring Sir Hammerlock! In this week's tale, our hard-boiled heroes travel to the savage continent of Aegrus! Their goal? To uncover the most exotic creatures Pandora has to offer, and give 'em the old one-two!
The details don't stop there, though, as there are apparently three new customization packs incoming as well. Named the Domination Pack, Supremacy Pack, and Madness Pack, these will all add new character customizations but it's unclear if they'll demand a purchase or if they'll be free. Now all we need is an official announcement from Gearbox and we'll be all set. While we wait, go ahead and browse through the leaked screenshots in the gallery below.