Booqpad Folio For iPad 2 Fuses Tablet With Traditional Notepad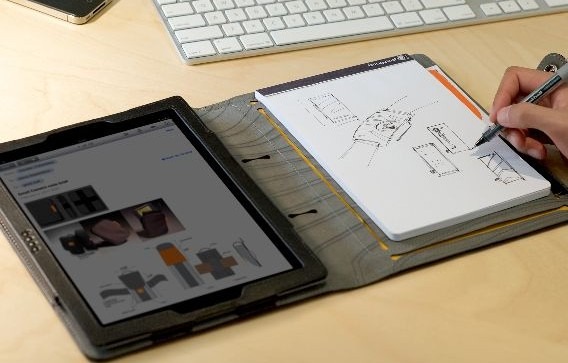 The Apple iPad 2 has just been officially unveiled, so new accessories for the revamped device should be rolling out in droves. First one to catch our attention is the Booqpad Folio made for the iPad 2 that elegantly combines protection for the ipad with a traditional notepad.
Unfortunately, it does not automatically transfer what you doodle on the notepad onto the iPad. For that you might look into LiveScribe's smartpens. But for someone like myself that finds it difficult to do creative work directly on a computer or a tablet–such as when I'm sketching out my webcomics for SlashGear–a folio like this is a nice way for me to easily carry a traditional sketchpad along with my iPad.
The Booqpad ships with a 50-sheet notepad and comes in 5 different color combinations made with a weatherproof leatherette material. It is also designed symmetrically so that it can be flipped for either right-hand or left-hand use. There's room for a pen, stylus, business cards, and even cash. The Booqpad Folio is available now for $49.99 at Booq where you can also find a myriad of other iPad accessories including messenger bags, backpacks, and skins.
Press Release:
ooq Fuses Past and Present, Unveils the Smart and Stylish Booqpad Folio for iPad 2

With simple elegance and superior functionality, Booqpad provides the ideal solution to create, store, and present your next big idea

Sierra Madre, California – (March 2, 2011) – Booq, a leading brand of premium laptop and iPad carrying cases, announces Booqpad for iPad 2. The ultimate accessory for today's creative professional, Booqpad combines the newest tablet on the market with the original tablet, the notepad. Booq combines these creative tools together perfectly in this simply elegant folio. Available at www.booqbags.com with eco-friendly and weatherproof versions for $49.95 and a higher-end luxury option for $99.95, the Booqpad is the ideal tool for designers, writers, engineers, and creative professionals everywhere.

Whether you're designing the next app, sketching your latest product design, or just taking notes, pen and paper is sometimes the best way to bring your big idea to life. By fusing this tried & true method with the revolutionary iPad 2, booq makes it easy to create, store, review, and present your latest ideas all from one case. The highly functional interior layout includes designated areas for a pen, stylus, cash, paper notepad, and of course the iPad 2. A pair of business card slots, provide easy access to your cards, as well as a holder for all the important contacts you make during your day.

Designed symmetrically for right and left hand users, each Booqpad ships with a 50-sheet A5 notepad made from at least 30% post-consumer materials and printed with soy ink. Paper refills come in multiple options, all tailored for creative professionals on the go. Each notepad has a specific layout created with certain tasks in mind, including website development, app design, sketching, 3D art, and creative writing. Notepad sheets are the exact size of the iPad screen and each is micro-perforated for a clean tear-off every time.

Booqpad features include:

• Easily stores pen, stylus, cash, business cards, paper notepad, and iPad 2 all in one elegant folio

• Designed symmetrically for right and left handed users

• Secures and protects iPad 2, providing in case access to all buttons and ports

• Ships with 50 sheet notepad made from 30% post consumer materials and printed with soy ink

• 5 interior/exterior color combos: white/berry, sand/plum, gray/green, coffee/cream, black/gray

• $49.95 (Booqpad w/notepad) – $99.95 (coffee/cream model) – $9.95 (3-pack notepad refills)

Notepad options include:

• 5 MM-Ruled – Writing and note taking. Features a 18cm ruler with mm markings on the right edge for quick access

• 960 Web – Website, app, and banner development. Each page is printed with a 20 pixel grid and color lines & numbers indicating a 60 pixel-wide column with 20 pixel gutters

• 5 MM Grid – 3D product and packaging development. 5mm grid makes it easy to draw scaled or full-sized 3D objects

• ½ Inch Ruled – Note taking. Lines spaced ½ and 1 inch with the right edge featuring a 7 inch ruler perfect for measuring your products

• Blank – Ideal service to sketch out concepts, layouts, or brainstorm session ideas

• Blank Gray – Gray canvas allows sketching with light colored pens and colored pencils inspiring more creativity and design

• Available in 3-packs for $9.95

With attention to style and quality, booq provides multiple materials to choose from. Two models (gray-green, sand-plum) are constructed with a custom-made duotone fabric woven with 100% recycled PET, giving your water bottles an afterlife. For a higher-end option, booq crafted the luxuriously elegant coffee-cream model using supple first-grade Nappa leather. The slick black-gray and white-berry models sport an extremely durable, weatherproof leatherette exterior.

Booqpad becomes the newest addition to the booq line of folios, messengers, backpacks, and iPad bags & skins. Shipping in late March, Booqpad for iPad 2 is available starting at $49.95 (recycled PET, leatherette) and $99.95 (Nappa leather) on www.booqbags.com and various retailers throughout the U.S., see www.stores.booq.com.

To request additional information about booq, please contact PR Representative Brad Hobbs at (305) 576-1171 x19 or by e-mail at bradhobbs@maxborgesagency.com. To learn more about booq, go to www.booqbags.com.

About booq:

Booq strives to create high-end laptop bags while providing excellent customer service to the next generation of ambitious creative professionals. It is no accident that this privately-held family company was started, and is still run, by a small team of highly motivated creative individuals who are committed to providing the highest level of product performance and service to some of the world's most demanding customers for many years to come. For more information please visit www.booqbags.com.