BOND bike packs flamethrower, tank track & ejector seat [Video]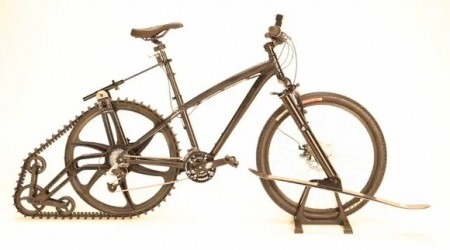 We wouldn't normally talk about insurance companies here on SlashGear, but ilovemybike must've known they'd be appealing to geeks when they put together their BOND bicycle prototype.  According to ETA it's intended to answer the three main criticisms of urban bikers, hence there's a flamethrower in the handlebars for cars that get too close, caterpillar tracks at the back for dealing with potholes, and an ejector seat for disposing of bike thieves.
Video demo after the cut
There's also a ski blade on the side, which can be interchanged with the front wheel just in case you get some heavy snow.
Of course, they don't intend to actually offer the bike commercially; it's just an eye-catching promotion to get you to think about bike insurance.  The BOND name apparently stands for "Built of Notorious Deterrents" but is an obvious nod to 007.
[via OhGizmo!]