B&O BeoVision 12-65 plasma TV and BeoLab 12 speakers debut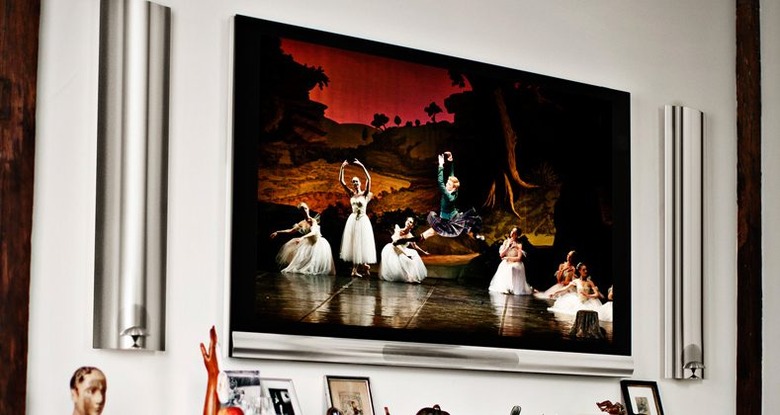 Bang & Olufsen has launched a new 65-inch plasma TV, the B&O BeoVision 12-65, along with a set of minimalist wall-mounted speakers, the B&O BeoLab 12. The BeoVision 12-65 uses an ultra slim NeoPDP panel and some clever optical trickery consisting of flexed metal strips to make the set look even narrower; it runs at Full HD, and has an integrated center-channel speaker for use with surround sound setups.
Inside is a 4 x 80W ICEpower amp for the midrange and 1 x 40W for the treble, along with an ambient light sensor to automatically adjust screen brightness. Interestingly, there's no other mounting option beyond on the wall: B&O has even integrated the mount into the plasma set itself.
As for the BeoLab 12 speakers, they use B&O's own Acoustic Lens Technology to project sound 180-degrees. They use a 3/4-inch Acoustic Lens for the treble, a 2-inch midrange and two 6.5-inch flat CosCone woofers for the lower frequencies, angled in towardsthe wall. There's also a 2-inch aluminum cone to help the Acoustic Lens system do its magic.
An ICEpower class D amp provides a total of 480W – twin 160W for the bass, 80W for the mids and 80W for the treble – and the system can adapt to the room, the wall and, indeed, whether you place the BeoLab 12's with the cones at the top or the bottom.
No word on pricing, but the BeoVision 12-65 will arrive in March and the BeoLab 12 speakers in the spring. Expect them both to be expensive.