B&N NOOKstudy sets sights on students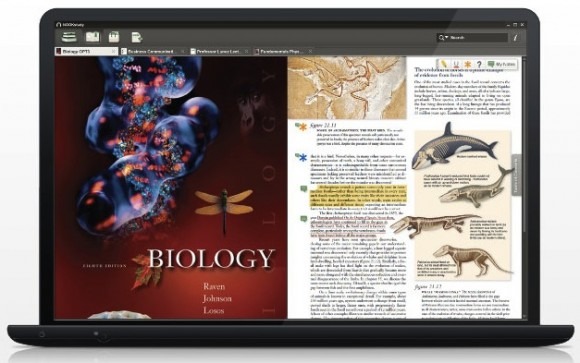 Barnes & Noble are pushing to get their nook dual-screen ereader into schools, with the announcement of NOOKstudy.  A new, free digital content management app, NOOKstudy promises to take ebooks, digital class materials, textbooks and notes, and keep everything packaged neatly in one place.  The app doesn't actually require a nook to be functional – though obviously B&N would rather you did buy one – since you can buy, download and read eTextbooks on the PC or Mac client itself.
That's because it's all tightly integrated with Barnes & Noble's own ebook store, which currently has a claimed "over 1 million ebooks and etextbooks".  These can be tagged, highlighted and annotated, and then searched through at a later date; you can also view two pages (from two different ebooks) on-screen at any one time.
Currently NOOKstudy isn't available to download; there's only a sign-up form for more information once B&N push it out the door.  That's expected to happen in fall 2010, in time for the new academic year.
Press Release:
Barnes & Noble Introduces NOOKstudy – Online Reading and Study Platform

Free, Feature-Rich Application Works on a Student's PC or Mac®

NOOKstudy Features Built-in Highlighting, Note-taking and

Other Customizable Tools for Students

Higher Education Students Can Save Up to 40% Buying eTextbooks

New York, New York – July 12, 2010 – Barnes & Noble, Inc. (NYSE: BKS), the world's largest bookseller, today announced that it has developed an integrated software solution for the higher education market. Called NOOKstudy, the feature rich, free software application is the ultimate study tool, enabling students to manage all their digital content – eTextbooks, class materials, and notes – on the computing device they rely on most, their PC or Mac. NOOKstudy, developed with input from students and leading higher education institutions, delivers a superior digital reading experience and is the first digital textbook application that enhances the academic experience through unique and customizable study features.

NOOKstudy is a revolutionary, easy-to-use study tool that offers instant downloads of a large, versatile selection of eTextbooks and academic and trade titles. Among the innovative features developed with extensive feedback from college students, professors and administrators, NOOKstudy lets students view multiple books and sources at once and offers access to complementary content (e.g. toolsets, reference materials, etc.), as well as the unprecedented ability to highlight and take notes that are searchable and customizable. This comprehensive software solution also provides students access to all of their materials – eTextbooks, lecture notes, syllabi, slides, images, trade books and other course-related documents – all in one place, so their digital library goes wherever they go.

"NOOKstudy is a big win for college students: it will not only lighten their backpacks, but also help them save money and study more efficiently," said Tracey Weber, EVP, Textbooks and Digital Education, Barnes & Noble.com. "NOOKstudy is a revolutionary approach to learning that offers students access to the reading and organizational tools they need, across all content sources and formats, enabling them to study smarter, not harder."

Barnes & Noble is America's leading operator of college bookstores, with exclusive relationships to distribute educational materials, in all formats, across hundreds of educational institutions, including Harvard University, University of Pennsylvania, University of Chicago, University of Central Florida, the Kentucky Technical and Community College system and many more.

A longtime pioneer of the college bookselling industry, Barnes & Noble has a broad and deep reach into the higher education market. This success is based in large part on the company's strong relationships with many leading publishers of higher education content, including Pearson, Cengage Learning, McGraw-Hill, Springer and Elsevier Science & Technology Books.

NOOKstudy will be compatible with the company's entire catalog of eBooks and digital content, including relevant study aids, test prep guides, periodicals, and hundreds of thousands of trade and professional titles. NOOKstudy will also enable students to save money, as eTextbooks offer up to 40% savings off new textbooks.

NOOKstudy is currently being used in several private and public 2-year, 4-year and research institutions, including Pennsylvania State University, University of Nevada, Las Vegas, Queensboro Community College, and Rochester Institute of Technology. The product will be rolled out for the 2010 fall semester and will be available for higher education students everywhere. Students and professors who want to be first to access NOOKstudy can register online now at www.NOOKstudy.com.