B&N NOOK NY Times subscribers get to bypass paywall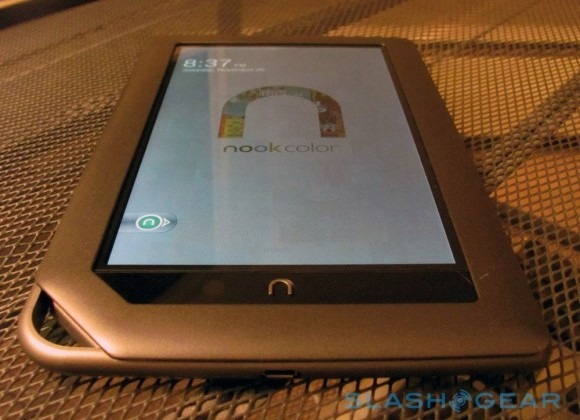 First Kindle users, now NOOK owners. Never wishing to be outdone by Amazon, Barnes & Noble has secured complimentary New York Times paywall access to those who already subscribe to the paper on their ereader. A date for the access is yet to be confirmed, and users will be contacted by email with more details.
As with the Kindle edition, the B&N NOOK NYTimes subscription is $19.99 per month. It's also worth noting that – again, as with Amazon's version – you can only read the digital newspaper on your NOOK or NOOKcolor, not B&N's software ereader apps.
Press Release:
Subscribers to The New York Times on NOOK™ by Barnes & Noble to Receive Free Access to NYTimes.com

Customers Enjoy Digital Edition of Newspaper on NOOK Devices,

Plus Online News, Opinion, Videos and More

New York, New York – April 5, 2011 – Barnes & Noble, Inc. (NYSE: BKS), the world's largest bookseller, today announced that all subscribers to The New York Times through NOOK Newsstand™ will also enjoy access to the NYTimes.com website. Barnes & Noble customers can already enjoy their digital subscription to The New York Times, reading the daily e-edition content on NOOK Color™ Reader's Tablet, NOOK™ and NOOK Wi-Fi® eReaders. Coming soon, NOOK subscribers to The New York Times will also be able to access NYTimes.com, The Times's award-winning website, including timely news updates, opinion, blogs, video, interactive graphics and more, at no additional cost.

"We are excited to expand our long-standing relationship with The New York Times to provide NOOK customers with online access to even more great content any time," said Jonathan Shar, Vice President and General Manager of digital newsstand at Barnes & Noble. "Our customers already enjoy access to one of the leading NOOK Newspapers™ on their favorite NOOK device, and we believe they'll appreciate the easy access to all of the wonderful online content available at NYTimes.com at no extra cost."

The New York Times continues to be one of the bestselling NOOK Newspapers and, as with other digital periodicals, is available for a risk-free, 14 day free trial for all customers.

"The Times's digital subscription plan was designed to offer access to our high-quality journalism across a variety of platforms," said Yasmin Namini, senior vice president, marketing and circulation, and general manager, reader applications, The New York Times Media Group. "We are pleased be able to offer online access to NYTimes.com as part of the subscription experience for our loyal readers on NOOK devices."

Barnes & Noble customers with current subscriptions to The New York Times through NOOK Newsstand™ will be notified via email in the coming weeks with more information on how to enjoy free access to NYTimes.com.

For more information and to order The New York Times for NOOK, visit www.bn.com/nytimes or visit any of NOOK Boutique or display in one of Barnes & Noble's more than 700 bookstores (http://store-locator.barnesandnoble.com) to learn more.