B&N Nook ebook reader trademark unearthed, expected later today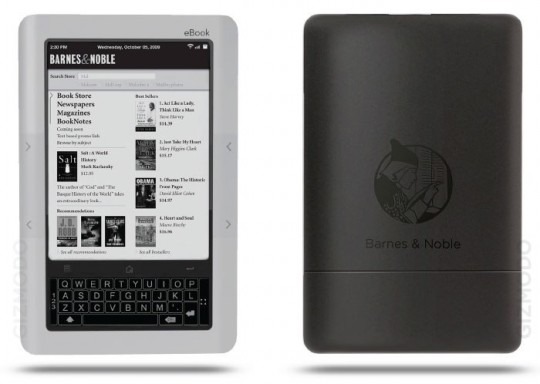 We're ramping up to what looks like the launch of the Barnes and Noble Nook – in fact our own Vincent Nguyen is in New York today for the company's press event – and as you'd expect the ebook geeks aren't content to take the news when B&N feed it to them.  After the WSJ broke the news that the upcoming dual-display device will be, bafflingly, called Nook, our friend (and general malcontent) Mike Cane dug up the company's trademark application.
That application describes the Nook as a "portable electronic apparatus for displaying, receiving, reading and storing downloadable electronic publications, namely, books, e-books, magazines, newspapers, text, images, digital web site content and digital media featuring music through wired and wireless Internet access, accessories therefor and instructional manuals, sold as a unit."  That certainly confirms the wireless connectivity – both WiFi and 3G WWAN have been tipped – though makes no reference to the dual-display technology we're expecting to see.
As of writing this, Nook.com doesn't load; however, a quick WHOIS search turns up barnesandnoble.com as the domain servers.  It seems like this ridiculous name has been around for some time; B&N registered the domain on June 10th.