BMW i8 sports hybrid gets wild track outing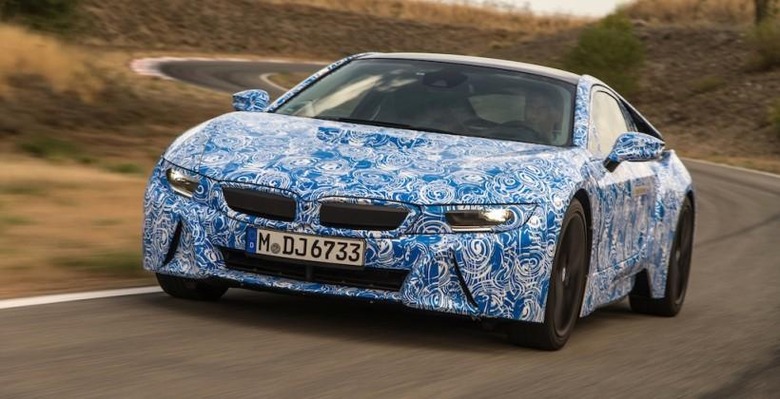 Now that BMW's i3 production car has broken cover, the German company has moved onto arguably more exciting things: namely throwing the BMW i8 around a track in France for some performance testing. Shown off in Spyder concept form back at the LA Auto Show in November 2012, the slinky hybrid borrows the plug-in eco-friendliness of its boxy i3 sibling, but cranks up the performance for a sub-4.5s 0-62mph dash and a top speed limited to 155mph.
Like select version of the i3, the i8 pairs its electric drivetrain with a gas engine, though the sports car opts for a gruntier powerplant. It's a three-cylinder TwinPower Turbo mustering 231HP for the rear wheels, while the 131HP electric motor drives the front wheels; the i8 can either drive for up to 22 miles (at up to 75mph) in all-electric mode, or switch on the gas engine for all-wheel drive.
All that was thrown round the BMW Group's Miramas test track in France, complete with camera-confusing blue patterned wrapping. Although BMW wanted to show off exactly what sort of racing performance a hybrid could deliver, it's also keen to highlight the potential for frugality: in fact, the i8 can deliver an equivalent of 113 mpg with sub-59 grams per kilometer CO2 output.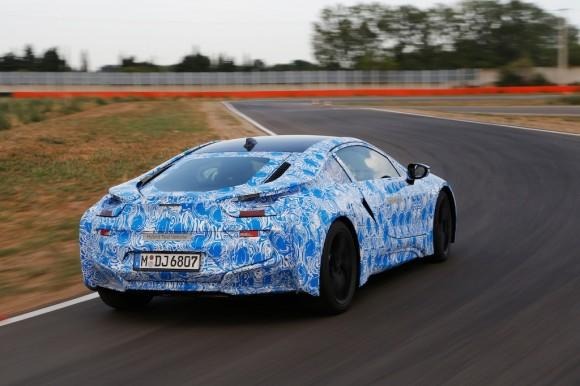 The bodywork wraps the 2+2 seating in a carbon-fiber-reinforced plastic (CFRP) cell, and that along with BMW's use of an aluminum "Drive module" – pairing the gas and electric motors, batteries, and other components, as well as the structural and crash functions – adds up to a low center of gravity and a sub-1,490kg curb weight. The i8 sits on 20-inch light-alloy wheels, and pairs the gas engine with a 6-speed automatic transmission while the electric motor gets a 2-stage automatic. The i8 can be left to change its own gears normally, or put into Sport mode for faster changes.
BMW has even borrowed chemically-hardened glass technology – more familiar from smartphone displays – for the divide between the passenger compartment and the trunk. Two layers of the glass – together just 0.7mm thick – sandwich a sheet of acoustic material, and altogether weighs around half the conventional laminated glass equivalent.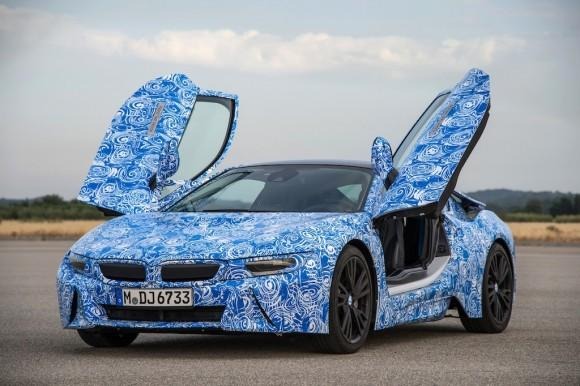 Like other hybrids, there's regenerative braking to recharge the batteries when the car is slowing – more aggressively when in Sport mode – while a full recharge from a 240V household power supply takes under three hours. BMW will also offer its "i Wallbox" fast charger, which rejuices the i8 in under two hours. Comfort and Eco Pro modes offer different degrees of range depending on how many comfort sacrifices you're willing to make; in Comfort, BMW estimates range as over 310 miles with a full tank of gas and a charged battery, but Eco Pro mode can extend that by up to 20-percent.
What BMW isn't saying is when the i8 might graduate from concept to production car, nor what sort of price tag it might command when that happens.