BMW I8 Is First Car Ever To Be Fitted With Gorilla Glass

We talked about the BMW i8 hybrid sports car a couple of days ago, mentioning that it had toughened glass that's a bit stronger than traditional glass we see on cars today. However, it's been revealed that the new car will be the first-ever car to use Corning's Gorilla Glass, a type of glass that we've only seen on consumer electronics thus far.
However, while we expected the windows and windshield to get the Gorilla Glass treatment, it seems BMW is only outfitting the rear window with Gorilla Glass. The car maker says this is for sound-dampening purposes, as the glass will consist of two 0.7mm layers with an acoustic sheet in the middle.
Gorilla Glass is also lighter than traditional glass, making the BMW i8 ever so lighter this time around, compared to if it used traditional glass. The i8 weighs less than 3,300 pounds, thanks to the Gorilla Glass as well as a few carbon fiber components. Of course, though, the hybrid powertrain is rather heavy, so the car still isn't the lightest around.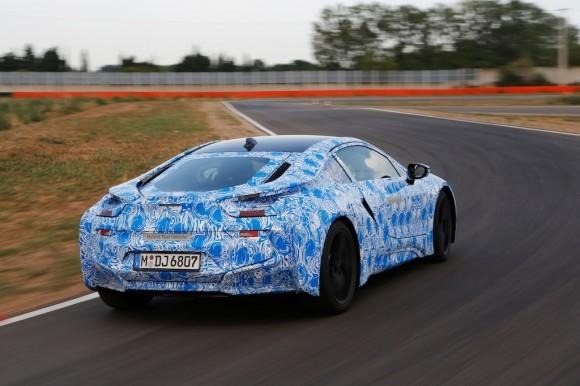 The i8 comes with a mid-mounted turbocharged 1.5-liter three-cylinder engine that cranks out 231HP, and there's also a front-mounted electric motor that cranks 131HP for a total of 362HP. The car can travel from zero to 60mph in just 4.5 seconds, and it has a top speed of 155mph. It's not too fantastic, but at least it gets 95 miles per gallon.
The i8 will officially be unveiled later this year in Frankfurt, Germany, and will go on sale next year alongside the BMW i3, which is another one of the company's new electric vehicles.