BMW Concept X5 eDrive Teases Hybrid SUV To Challenge Lexus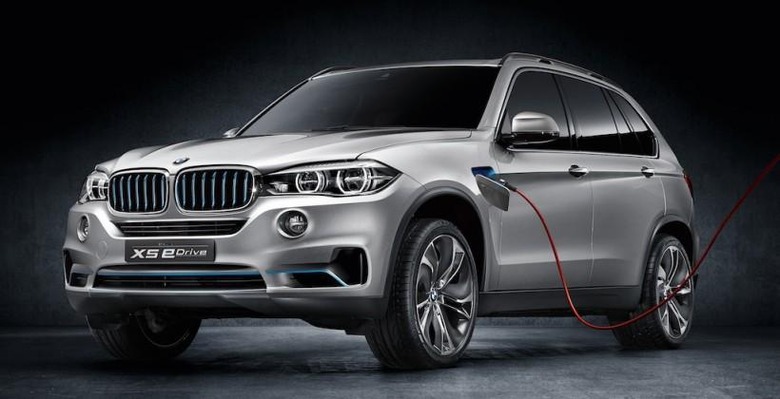 BMW's i3 may be the company's first electric car to reach the market, but the company knows it's gas-guzzling SUVs that could really benefit from an eco-friendly update, hence the new BMW Concept X5 eDrive. Set to debut officially at the Frankfurt International Motor Show, the concept SUV bears a few design tweaks on the outside to differentiate it from its gas and diesel powered siblings, but the real magic goes on under the hood, where a plug-in hybrid drive system promises to take the polluting edge off of owning a big all-wheel-drive car.
The new system pairs a four-cylinder traditional gas engine – with a BMW TwinPower Turbo – with a 70kW, 95HP electric motor driven by a li-ion battery pack. Range of the electric motor alone isn't vast, and in fact you'll only go up to 19 miles on electricity alone, but comes into its own when the two power sources are combined.
Then, the total power can be directed to any combination of the four wheels, depending on which has the most grip. Under electric drive only, top speed is 75mph, and the car can managed an equivalent of 74.3mpg and under 90 g-per-km in CO2 emissions. Together, 0-62mph comes in under 7.0s, BMW claims, with the familiar surge of initial acceleration an electric motor delivers.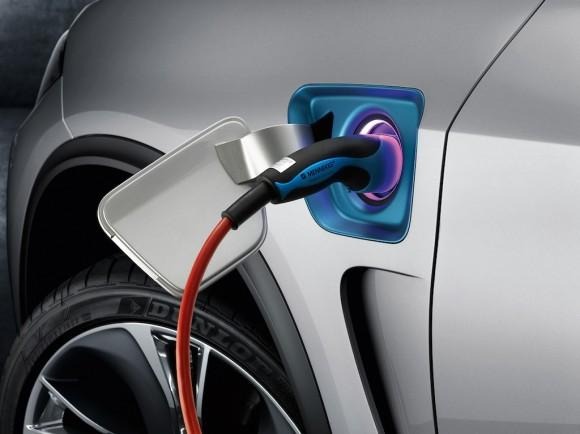 Drivers would also have the option to switch into an ECO PRO mode, which juggles the two power sources to get the best efficiency out of the car. BMW has developed a "Proactive Driving Assistant" too, which integrates with the X5's navigation system and factors aspects like route profile, what speed restrictions might be ahead, and traffic conditions into the balance of gas and electric power selection. The satnav can also be set to flag up public charging stations, with journey ETAs taking into account how long the SUV might take to recharge.
The same data gets pushed to the BMW smartphone app, which also allows for remote control over climate control and heating. BMW will also offer the app for the i3 compact, and the i8 Sports Hybrid.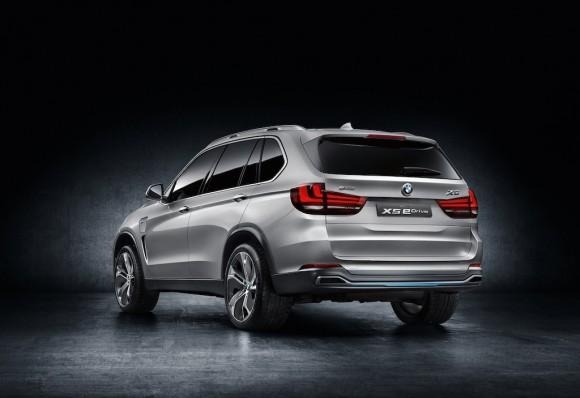 On the outside, there's a new grille and air-intake bars, as well as a rear bumper inlay, in the i Blue finish BMW has used on other EVs, while the roof rails and aerodynamically-designed low-weight 21-inch alloy wheels are custom to the concept. Even the plug in power port is illuminated.
Right now, there's no talk of the Concept X5 eDrive being anything more than an exercise in "what if" by BMW, though given rivals like Lexus have carved out successful markets with hybrid SUVs, we'd be very surprised if a production version wasn't on the cards.