Bluetooth class-action suit settled: Lawyers unsurprisingly the biggest winners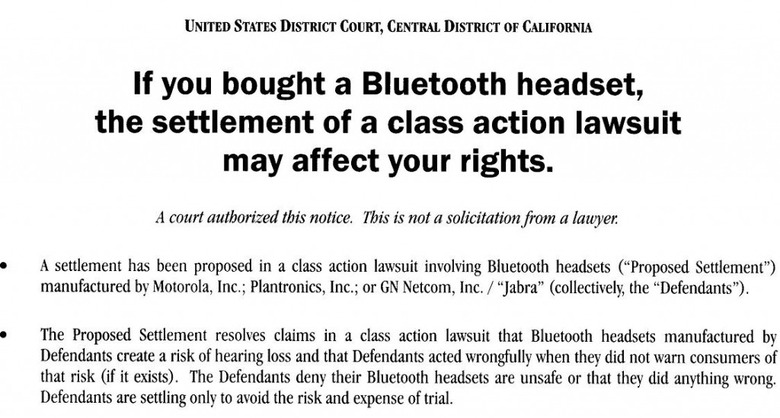 Motorola, Plantronics and Jabra have offered to settle in a class action lawsuit that accused them of insufficiently warning of the possible impact Bluetooth headsets could have on a user's hearing.  Since the number of headset users are so great, however, the financial compensation – $100,000 – is going to hearing-loss related charities; the real winners are the lawyers, who will likely take in excess of $2m.
"Class Counsel will ask the court for up to $800,000 in attorneys' fees and up to $38,000 for reimbursement of documented expenses.  Class Counsel will also request up to $12,000 total for the Class Representatives, who helped the lawyers on behalf of the whole Class.  The Court may award less than these amounts.  Defendants will separately pay the fees and expenses the Court orders.  These payments will not reduce the amount Defendants will donate to charity.

Defendants will also separately pay the costs to provide notice to the Class and administer the Proposed Settlement, up to $1.2 million.  If those costs are less than $1.2 million, Class Counsel may request reimbursement for additional documented expenses up to $12,000, which Defendants will pay upon approval by the Court." Settlement agreement
A likely result of the case will be a new spate of warning labels and stickers on any Bluetooth headset, informing customers that there might be a risk to hearing from using them.  We say might, as even the class action suit wasn't entirely sure whether the risk was present: as the legalese says, the Bluetooth headsets "create a risk of hearing loss and that Defendants acted wrongfully when they did not warn consumers of the risk (if it exists)."
Motorola, Jabra and Plantronics are settling out of court in preference to a full – and potentially far more expensive – trial, but are not admitting that their products present a risk.  Meanwhile the consumers carry on regardless, have another label to ignore, and seven law firms take another step toward their Christmas bonus.
[via jkOnTheRun]