Bluetooth 3.0 + HS announced: up to 24Mbps transfers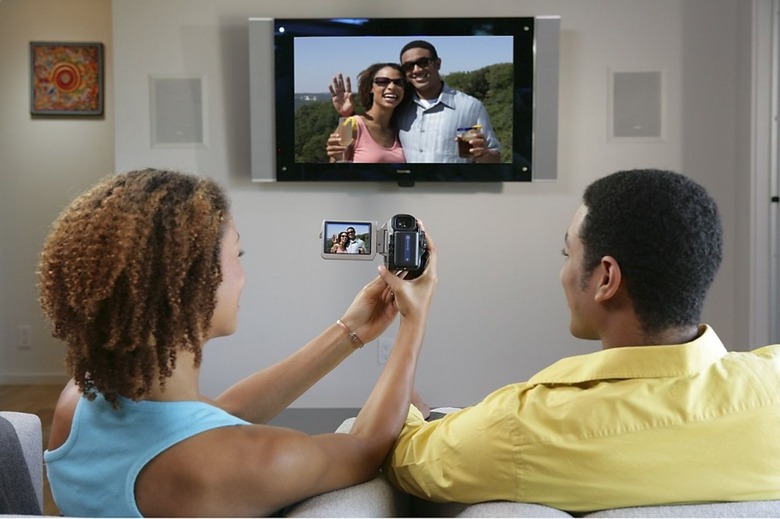 As expected, the Bluetooth SIG have officially announced the Bluetooth 3.0 + HS standard, which promises connections of up to 24Mbps.  That's possible thanks to the new inclusion of 802.11 support, the same WiFi technology as found in most laptops and cellphones.  In addition, power efficiency is also said to be improved thanks to new power controls.
Video demo after the cut
"Think of the connection between Bluetooth technology and 802.11 this way – it's like a two-man relay: Bluetooth 3.0 puts the team in good position and then passes the baton to the sprinter" Michael Foley, Executive Director, Bluetooth SIG
Bluetooth 3.0 + HS is being pitched as a way to transfer large amounts of data between devices, rather than just the occasional photo or small video.  There's already interest in including it in camcorders and digital cameras, and it's a fair assumption that the next generation of cellphones and laptops will support the standard.
Those who use Bluetooth headsets will also see an improvement, as Bluetooth 3.0 + HS is also said to boost connection stability even when the phone is moved to a pocket or purse.  Atheros, Broadcom and CSR have all signed up to develop chips for the new wireless standard, and products are expected to arrive on the market in 9 to 12 months.
Press Release:
Bluetooth Technology Gets Faster with Bluetooth 3.0

Bluetooth SIG Adds Speed, Bandwidth via 802.11 with Bluetooth 3.0 of the Global Wireless Standard

April 21, 2009 09:48 PM Eastern Daylight Time

TOKYO–(EON: Enhanced Online News)–From its annual All Hands Meeting in Tokyo this week, the Bluetooth SIG formally adopted Bluetooth Core Specification Version 3.0 + High Speed (HS), or Bluetooth 3.0. This latest iteration of the popular short-range wireless technology fulfills the consumers' need for speed while providing the same wireless Bluetooth experience – faster. Manufacturers of consumer electronics and home entertainment devices can now build their products to send large amounts of video, music and photos between devices wirelessly at speeds consumers expect.

"Think of the connection between Bluetooth technology and 802.11 this way – it's like a two-man relay: Bluetooth 3.0 puts the team in good position and then passes the baton to the sprinter."

Bluetooth 3.0 gets its speed from the 802.11 radio protocol. The inclusion of the 802.11 Protocol Adaptation Layer (PAL) provides increased throughput of data transfers at the approximate rate of 24 Mbps. In addition, mobile devices including Bluetooth 3.0 will realize increased power savings due to enhanced power control built in.

"Like Ricky Bobby in Talladega Nights, this latest version was 'born to go fast,'" said Michael Foley, Ph.D., executive director of the Bluetooth SIG. "Utilizing the 802.11 radio was a natural choice as it provides efficiencies for both our members and consumers – members get more function out of the two radios they are already including in devices, and consumers with Bluetooth 3.0 + HS products will get faster exchange of information without changing how they connect. We are excited to expand the possibilities of the PAN."

Added Foley: "Think of the connection between Bluetooth technology and 802.11 this way – it's like a two-man relay: Bluetooth 3.0 puts the team in good position and then passes the baton to the sprinter."

This newest version of Bluetooth technology builds on the inherent qualities of the current 2.1 + EDR version, including Simple Secure Pairing and built-in, automatic security. And as with all versions of the Bluetooth specification, Bluetooth 3.0 + HS provides developers, manufacturers and consumers with the benefit of backwards compatibility, enabling both the expansion and enhancement of this technology with every new specification release. Once products reach the market, the easiest way for consumers to learn which devices are compatible with other Bluetooth enabled devices is to visit the Bluetooth Gadget Guide.

Applications

With the availability of Bluetooth 3.0 + HS, consumers can expect to move large data files of videos, music and photos between their own devices and the trusted devices of others, without the need for cables and wires. Some applications consumers will experience include:

Wirelessly bulk synchronize music libraries between PC and music player or phone

Bulk download photos to a printer or PC

Send video files from camera or phone to computer or television

Availability

The Bluetooth SIG's formal adoption of Bluetooth 3.0 is only the first step in the product lifecycle. News out today from wireless chip manufacturers and Bluetooth SIG member companies Atheros, Broadcom, CSR and Marvell shows the second step – getting silicon solutions to device manufacturers – is already underway. End products for consumers with Bluetooth 3.0 are expected to be in the market in 9 to 12 months.

Technical Specifications

This new specification release includes several major enhancements (learn more about Bluetooth 3.0 technology – link to specification details requires member login):

Generic Alternate MAC/PHY (AMP)

802.11 Protocol Adaptation Layer (PAL)

Generic Test Methodology

Enhanced Power Control

Unicast Connectionless Data

A feature for the headset crowd: More stable and reliable headset experiences will be enabled with Enhanced Power Control which reduces the incidence of disconnects caused by movement such as placing a phone in pocket or purse.

Unicast Connectionless Data provides faster transfer of information at lower power, giving consumers improved responsiveness and better battery life and a visible improvement in performance.

About Bluetooth® Wireless Technology

Bluetooth wireless technology is the global short-range wireless standard for personal connectivity of a broad range of electronic devices. The technology continues to evolve, building on its inherent strengths – small-form factor radio, low power, low cost, built-in security, robustness, ease-of-use, and ad hoc networking abilities. More than eight new Bluetooth enabled products are qualified every working day and more than 19 million Bluetooth units are shipping per week. There are over two billion Bluetooth devices in the marketplace and that number climbs daily, making it the only proven wireless choice for developers, product manufacturers, and consumers worldwide.

About the Bluetooth SIG

The Bluetooth Special Interest Group (SIG), comprised of leaders in the telecommunications, computing, consumer electronics, automotive and network industries, is driving development of Bluetooth wireless technology and bringing it to market. The Bluetooth SIG includes Promoter group companies Ericsson, Intel, Lenovo, Microsoft, Motorola, Nokia and Toshiba, along with over 11,000 Associate and Adopter member companies. The Bluetooth SIG, Inc. headquarters are located in Bellevue, Washington, U.S.A. For more information please visit www.bluetooth.com.