Bluepeaker Bluetooth speakerphone & GPS puck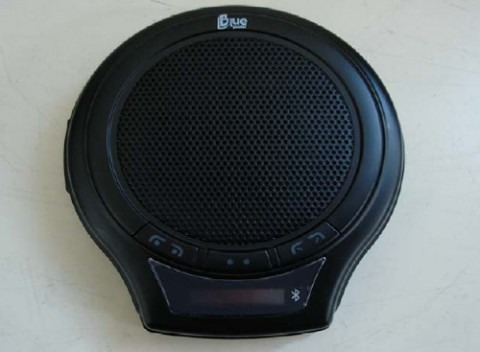 When is a Bluetooth speakerphone not a Bluetooth speakerphone?  When it's also a wireless GPS puck.  Hey, we're a gadget site not a comedy club.  The Bluepeaker is intended for car use, and consists of a hands-free speakerphone, wireless music speaker and GPS receiver for navigation, all running on battery power.
The speakerphone recognizes voice dialing and, going by the display, might even support Caller ID.  Meanwhile the A2DP wireless stereo profile is used to turn the Bluepeaker into a cordless 2W music speaker, for playing back tracks from a nearby cellphone or Bluetooth-enabled PMP.
Finally, the Bluepeaker provides serial GPS data over the Bluetooth link for any device that can use it, promising boosted reception over what you'd normally get integrated into a cellphone or other mobile device.  It uses the SiRF chipset, while the 1,200mAh battery is apparently good for up to 200hrs standby or 10hrs use.
No word on pricing or availability, as the Bluepeaker has only just made it through the FCC and the company site is not setup yet.