Blue Microphones launches world's first condenser microphone for iPad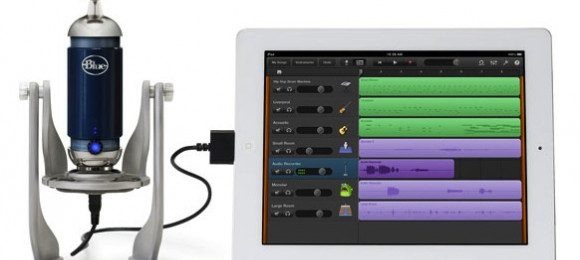 Way back at CES, Blue Microphones revealed the Spark Digital, a USB and iPad-compatible studio condenser microphone. Now, almost a year later, it is finally available, making it the world's first condenser mic for the iPad. The device is studio-grade, and offers zero-latency headphone output, allowing you to turn your iPad into a mobile audio station.
The Spark Digital microphone has volume and gain controls, as well as instant mute. Also included is Focus control, with Focus Off offering enhanced low frequency sensitivity and Focus On offering improved clarity and detail. The unit comes with an angle-adjustable desk stand with shockmount to reduce sounds from vibration.
Blue Microphones' CTO Brian Biggott offered this statement. "We are excited to release the first studio microphone for the iPad. With both USB and iPad connections and a wide range of available recording apps like GarageBand, Spark Digital is the missing link for achieving truly professional results on the mobile platform. Bridging the gap between analog quality and digital portability, Spark Digital completes the true mobile studio."
The Spark Digital is available now via your local retailer and online from Apple and Best Buy, and will eventually be available at Guitar Center and Amazon. You can nab the microphone for $199.99. The device comes with the Cloud Production Bundle, giving access to online production tools, as well as 25GB of storage for six months via Gobbler.