BLU Products' new line brings selfie to budget market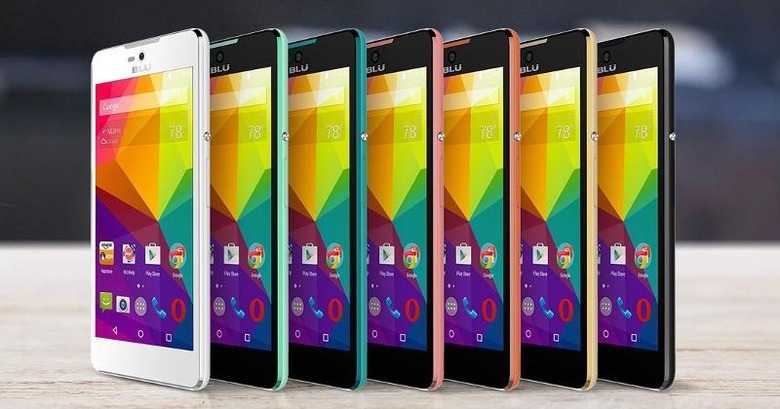 Selfies. Can't live with them, can't live without them. And when you've got super affordable smartphones to satisfy that selfie crave, why suffer living without? That might be the line of thinking behind BLU's three new smartphones. Although the VIVO Selfie is the leader of the gang when it comes to that criteria, the oddly named C 5+5 and the Energy X Plus do also boast a bit of selfie-centric features. Best of all, like any BLU smarpthone, these devices come unlocked and with tempting budget prices.
When it comes to selfies, VIVO Selfie is the name of the game. Why? Because of the 8 megapixel selfie cam partnered with an LED flash. It's not exactly the highest in the market (we've seen 13 megapixels in this category) but at budget price, that's a real steal. Curiously, the rear camera also has an 8-megapixel sensor, though boasting of a higher-end Sony IMX 179 model. The rest of the VIVO Selfie's specs is like a mix and match game. The 4.8-inch 1280x720 screen is definitely easy to hold. Topped by Gorilla Glass 3, you won't be too scared to drop it, accidentally of course. The 1.3 GHz quad-core MediaTek processor, paired with 1 GB of RAM, might be just about decent. The 8 GB internal storage, however, might not have enough room for all the selfies you'll take. Luckily, there's a 64 GB microSD card slot for more fun.
The BLU Studio C 5+5 is definitely a strange name to give a smartphone. That comes from the fact that it has a 5 megapixel rear camera and a 5 megapixel wide-angle front camera, not just for selfies but also for groufies/wefies. Curious, then, that BLU didn't call the VIVO Selfie an 8+8. Actually, the C 5+5 could also be a 5+5+5 thanks to its 5-inch screen. Though larger than the VIVO Seflie, its resolution is a rather dismal FWVGA 854x480. It has the same 1.3 GHz quad-core CPU and even the same 1 GB RAM and 8 GB storage configuration. What's different here, and what sets the Studio C 5+5 apart from this batch, is that it comes with an LTE capable model. Oh, and that it took a page out of LG's book and offers a "leather pattern" back design paired with a color matched metallic front frame.
Last but definitely not the least, the BLU Energy X Plus adds a dash of battery power into the choices. 4,000 mAh to be exact. That's an advertised 72 hours of standard usage or 36 days on standby. Considering it closely matches the specs of the other two, meaning the same CPU and RAM combo, you're mostly assured of those figures. That said, the larger 5.5-inch HD screen sort of balances that advantages. Plus, the Energy X Plus supports dual active SIMs on standby, which slightly increases the power draw.
All three BLU smartphones become available on Amazon starting August. The prices are as as follows:
• Studio C 5+5 (3G): $89.00
• Studio C 5+5 (LTE): $99.00
• VIVO Selfie: $149.00
• Energy X Plus: $139.00