Blockbuster bankruptcy confirmed: little love for existing creditors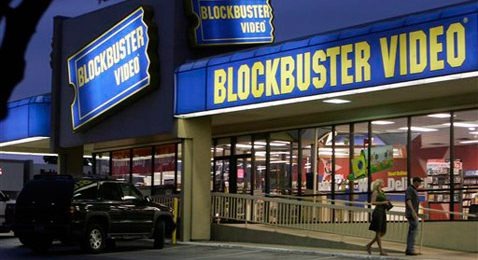 No great surprise, but Blockbuster has officially announced that it has entered "pre-arranged" Chapter 11 bankruptcy proceedings in an attempt to salvage a viable business from one currently mired in almost $1bn of debt.  Although all roughly 3,000 retail stores across the US will remain open initially, Blockbuster is promising to "evaluate its US store portfolio" and is likely to axe 500-800 locations, according to earlier predictions.
Meanwhile the company has secured a new $125m of new financing to tide it over while it restructures.  The target, it claims, is to reduce indebtedness to $100m or less; unfortunately that's not to the benefit of current debtors.  According to the press release, "under the proposed plan, there would be no recovery by the holders of the Company's outstanding subordinated debt, preferred stock or common stock."
Blockbuster has been under increasing competition from streaming media services and under-performing retail locations, and is likely to focus more on digital delivery and cheaper kiosk rental systems for their onward strategy.  Stores outside of the US will be unaffected by the Chapter 11 proceedings, though the company's Argentina arm will no longer receive financial support.
Press Release:
Blockbuster Reaches Agreement on Plan to Recapitalize Balance Sheet and Substantially Reduce its Indebtedness

To Implement Recapitalization, Company Initiates "Pre-Arranged" Chapter 11 Proceedings

Blockbuster Stores and Operations Conducting Business in the Ordinary Course

Secures $125 Million DIP Financing Commitment

Blockbuster Inc. (Pink Sheets: BLOKA, BLOKB), a leading global provider of rental and retail movie and game entertainment, today announced that it has reached agreement with a group of bondholders holding approximately 80.1 percent principal amount of the Company's 11 3/4 percent senior secured notes (the "Senior Noteholders") on the material terms of a plan to recapitalize its balance sheet and put the Company in a stronger financial position as it continues to pursue its strategic plan and transform its business model. The recapitalization plan would substantially reduce the Company's indebtedness — from nearly $1 billion currently to an estimated $100 million or less when implemented.

To implement this "pre-arranged" recapitalization, the Company and its domestic subsidiaries have filed voluntary Chapter 11 petitions with the U.S. Bankruptcy Court for the Southern District of New York. Blockbuster's non-U.S. operations and its domestic and international franchisees, all of which are legally separate entities, were not included in the filings and are not parties to the Chapter 11 proceedings.

All of Blockbuster's U.S. operations, including its stores, DVD vending kiosks, by-mail and digital businesses, are open and serving customers in the normal course. Blockbuster is fulfilling all orders as usual, including continuing to provide access to new releases the first day they become available. Blockbuster intends to continue honoring its Rewards program, valid coupons, gift cards and other customer programs.

Blockbuster franchise locations in both the U.S. and abroad are independently owned, operated and funded, and are also continuing normal business operations. In addition, BLOCKBUSTER Express vending kiosks, owned and operated through a relationship with NCR, continue their operations in retail locations around the U.S. The Company's international operations in Canada, Denmark, Italy, Mexico, and the United Kingdom are also conducting business as usual. However, Blockbuster will no longer provide funding to support its operations in Argentina, which have experienced continued shortfalls in operating cash flow.

Jim Keyes, Chairman and Chief Executive Officer, commented, "After a careful and thorough analysis, we determined that the process announced today provides the optimal path for recapitalizing our balance sheet and positioning Blockbuster for the future as we continue to transform our business model to meet the evolving preferences of our customers. The recapitalized Blockbuster will move forward better able to leverage its strong strategic position, including a well-established brand name, an exceptional library of more than 125,000 titles, and our position as the only operator that provides access across multiple delivery channels – stores, kiosks, by-mail and digital. This variety of delivery channels provides unrivaled convenience, service, and value for our customers."

The Company has secured a commitment of $125 million in new "debtor-in-possession" (DIP) financing from the Senior Noteholders to help meet its obligations to customers, suppliers and employees in the ordinary course during the recapitalization process.

As part of the recapitalization process, the Company will evaluate its U.S. store portfolio with a view towards enhancing the overall profitability of its store operations. Currently, all 3,000 of the Company's stores in the U.S. will remain open.

Under the terms of the proposed plan of reorganization, the Company's 11 3/4 percent senior secured notes will be exchanged for the equity of a reorganized Blockbuster. The only debt expected to remain on the Company's balance sheet upon its emergence from Chapter 11 under the proposed plan will be the amounts drawn under Blockbuster's $125 million DIP financing, which will convert to an exit loan facility upon consummation of the plan, and a new exit revolving credit facility of up to $50 million. Under the proposed plan, there would be no recovery by the holders of the Company's outstanding subordinated debt, preferred stock or common stock.

Keyes said, "We are pleased to enter this process with the support of the Senior Noteholders. Their willingness to provide the DIP financing and to support a plan to eliminate a substantial amount of the Company's debt in exchange for new equity is an important vote of confidence in Blockbuster."

Additional information about the recapitalization is available at www.Blockbuster.com/recapitalization or by telephone at 877-660-6684 or 732-645-4110. General information for Blockbuster customers is available at www.Blockbuster.com or by calling 1-866-692-2789.

The Company's legal advisor is Weil, Gotshal & Manges, its financial advisor is Rothschild Inc., and its restructuring advisor is Alvarez & Marsal.