Blizzard's BlizzCon benched for 2012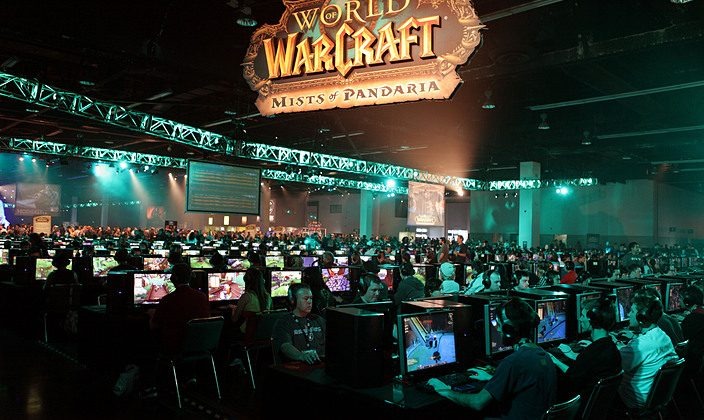 Every year since 2007, a teeming Hoarde of gamers perform Zerg rush on the Anaheim Convention center to attend BlizzCon, the convention specifically for mega-developer Blizzard. The World of Warcraft creators use the venue as a place to make their biggest yearly announcements directly to their most ardent of fans, creating a spectacle that's sort of like an extremely targeted E3. The 2011 BlizzCon in October went over well, but fans will have to wait a while for a repeat performance: Blizzard broke the news on its Battle.net website that the convention won't return until 2013.
Blizzard's hugely popular Warcraft, Starcraft and Diablo franchises are the main draw for BlizzCon, where gamers compete in tournaments and collect real and in-game giveaways. the developer's famously protracted release schedule means that BlizzCon is often the only chance for anyone outside the company to play triple-A titles like Diablo III and Starcraft II during their years of development. Previous conventions also had impressive entertainment lined up, like Tenacious D, Ozzy Osbourne and The Foo Fighters. BlizzCon grew from just 8,000 attendees in 2005 (it skipped 2006 as well) to an estimated 27,000 last year.
Blizzard gave their continuing work on Diablo III and the latest Starcraft II and World of Warcraft expansions as the primary reason for the delay, saying that the next BlizzCon will be held in 2013. (Since the conventions have all been announced after the previous year closed, BlizzCon 2012 isn't so much "cancelled" as "absent".) SlashGear editor and recovering Diablo addict addict Chris Burns had this to say upon hearing the news:
Though it grieves me to say so, this may well have to do with more than the standard set of excuses for a cancelled convention. With the pushbacks on Diablo III specifically, I can only guess that this means the game will be in the shop for another several months at least. Looks like I'll have to bring back all those bags of chips and mass amounts of Mountain Dew I just picked up.
The much-anticipated Diablo III was announced way back in 2008, and is expected (and hoped) to be released in the first half of this year.