Blaze Sega Genesis goes on sale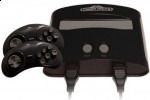 Blaze have announced a third-party Sega Genesis (aka Sega Mega Drive) that not only allows classic games cartridges to be played but comes with fifteen titles preloaded.  Onboard games include Sonic & Knuckles, Altered Beast and Golden Axe; as for the cartridge slot, it'll accept any region's Genesis or Mega Drive games.
The console follows Blaze's first attempt at a Genesis clone, which was a handheld unit rather than a more traditional replica.  It also lacked a cartridge slot, relying instead on 20 built-in games.
The Blaze Sega Genesis/Mega Drive is available in the UK now, priced at £38 ($53).  No word on whether it'll be making an official leap over to the US.
[via Kotaku]