Blackmagic Pocket Cinema Camera and Production Camera 4K official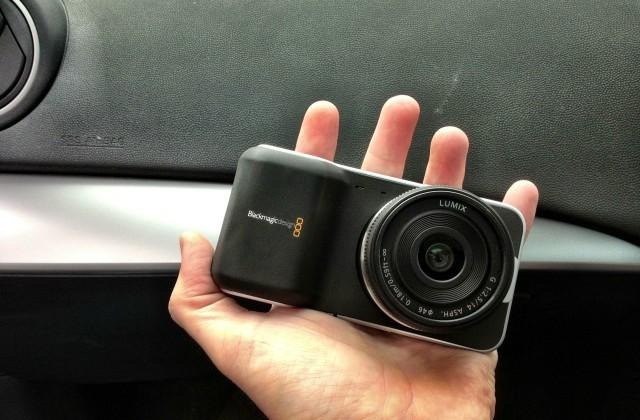 We've talked about Blackmagic before, but overall they're not all that well known in the mainstream world. However, they make some pretty interesting and high-quality cameras for professionals and enthusiasts alike. Today at NAB 2013, the company unveiled two new cameras, one of which is the Production Camera 4K and the other being the Pocket Cinema Camera.
The two cameras actually leaked earlier this morning, thanks to premature marketing banners that were put up during the show. However, Blackmagic has made it official, introducing a video camera capable of filming in 4K resolution, as well as a compact micro four thirds shooter, both of which are necessarily cheap. The design scheme is similar to Blackmagic's Cinema Camera that they launched last year, but this compact model has a much lower price tag.
The Pocket Cinema Camera is a $1,000 camera that packs in a Super-16 sensor, and it's capable of recording full 1080p HD video in RAW format. The camera also features 13 stops of dynamic range. Users will be able to slap on their existing Olympus and Panasonic lenses, since the Pocket Cinema Camera utilizes an active micro four thirds mount.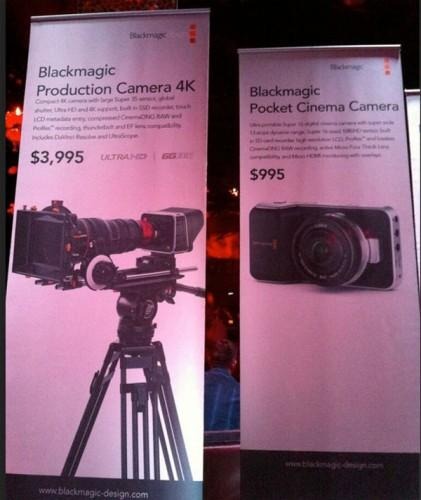 The Production Camera 4K is a $4,000 video camcorder that shoots in 4K resolution (meaning four-times the resolution of full 1080p HD). This camera sports a Super-35 sensor with native 4K video support, as well as a built-in SSD recorder. The camera also supports compressed CinemaDNG RAW and compatibility with traditional EF lenses for those who want to play around with different glass.
Both cameras begin shipping in July, although a solid release date is not yet known. Engadget ended up getting a hands-on with the Pocket Cinema Camera, as well as a brief session with the Production Camera 4K. Filmmaker John Brawley also got quite the in-depth look into the Pocket Cinema Camera, and while we don't get to see any photo samples from the new camera, it seems image quality is superb on these new shooters.
Lead image via John Brawley