Blackberry Z30 to arrive at Verizon in November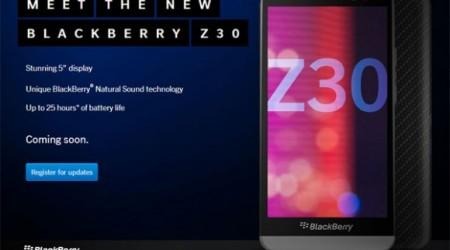 Blackberry introduced its new Z30 smartphone back in September, and starting next month enthusiasts will be able to grab it exclusively from Verizon. With the handset comes a 5-inch HD display, as well as options for those who want to go with monthly device payments over a typical two-year contract. Verizon doesn't specify what day it will launch on, but we've the rest of the details after the jump.
Verizon will be offering the smartphone for $199.99 alongside a two-year contract, or for $22.91 per month for 24-months for those who want to go the Verizon Edge route. Along with the 5-inch display comes Miracast for wirelessly connecting to a supported HDTV, allowing for activities to take place on larger displays when needed, or for gaming in conjunction with a mobile gaming pad.
Under the hood, the Z30 features a 1.7GHz processor alongside a quad-core graphics offering and the various Blackberry software features users have come to expect, including Blackberry Priority Hub for managing notifications and conversations. Blackberry Natural Sound is on board as part of the 10.2 version OS, and with it comes a promise of more natural sounding voice and video chats.
The battery comes in at 2880mAh capacity with a charge time said to be 25 hours with mixed usage — even better, it can be wirelessly charged. And not surprisingly given Blackberry's BBM push, the Z30 comes with BBM Now, giving users previews of messages when they arrive without moving away from their current activity, letting them choose whether they want to dismiss it or not.
SOURCE: Verizon Wireless