BlackBerry Z10 hands-on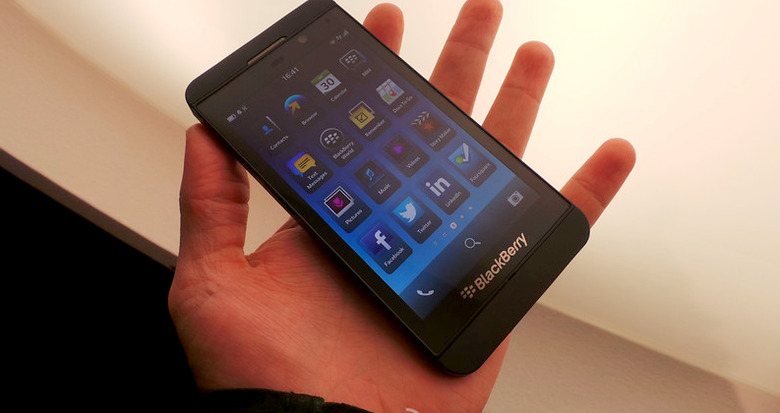 This week we're having an up close and personal look at the BlackBerry Z10, the very first all-touch hero for the new operating system known as BlackBerry 10. This machine is the first of two smartphones to use the operating system, the other being the touchscreen/QWERTY keyboard combination device BlackBerry Q10, both of these devices being prepped for 4G LTE action inside the USA and abroad. The BlackBerry Z10 is made to bring on the most impressive display ever offered by BlackBerry (formerly known as RIM) with 4.2-inches of LCD at 1280 x 768 pixel resolution (that's 355 pixels per inch, if you'd like to know).
This machine works with 2GB of RAM under the hood and a lovely 1.5GHz dual-core Snapdragon S4 Plus processor to keep you running powerfully into the night. The battery inside this device is 1800mAh strong and is removable and replaceable so you'll be able to purchase extras for long no-power trips. Internal storage adds up to 16GB while you've also got a microSD storage slot for up to 32GB cards at a time.
The front-facing camera on this device is 2 megapixels strong and made for video chat while the back has an 8 megapixel shooter with singe LED flash. Bluetooth 4.0 is included inside as is wi-fi and NFC. The full unit weighs in at 4.8 ounces, that being a bit more than the iPhone 5 (4 ounces) and less than most of the main competitors in the field.
As you'll be able to see in the photos here and the hands-on video above, the BlackBerry 10 operating system is based on gestures rather than home-buttons where each of the major mobile OS brands in the world rely on at least one central unit. Instead of said button, the BlackBerry Z10 has a rather pure-looking front facade with several physical buttons around its edges.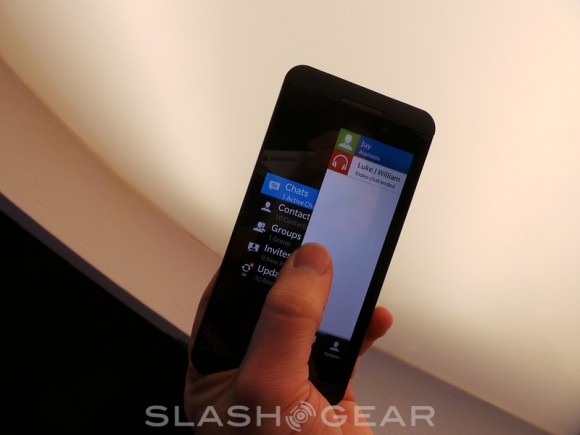 This machine feels light to the touch but but not so light its uncomfortable, its touchscreen is as responsive (if not more responsive) than the leading touch-sensitive smartphones across the market today, and the software appears swift. We'll be reviewing this device in full rather soon – until then, have a peek at the hands-on photos (and video immediately if not soon) and let us know if you'll be picking up the Z10 in the near future!