BlackBerry Torch 9810 4G smartphone headed to AT&T "soon"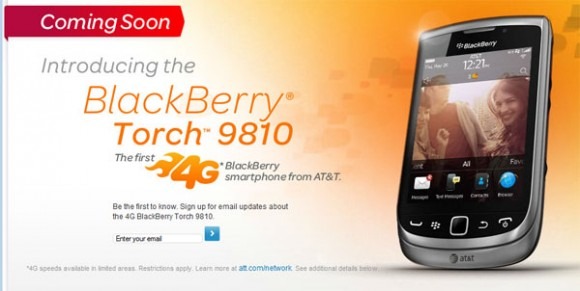 Today RIM rolled out the new BlackBerry Torch 9810 and our pal Chris has already had his geeky mitts on the smartphone. You can check out his hands on video here. In the US, the smartphone will be coming to the AT&T network and it is the first 4G Blackberry device ever. Granted it's not the real 4G LTE network the device operates on, but the HSPA+ network little better than 3G.
The Torch 9810 is a slider phone with the Blackberry keyboard under the larger touchscreen on the front. The design allows the user to type using the touchscreen or the keyboard depending on how it's working. The smartphone also runs the new Blackberry 7 OS. The phone packs in a 1.2GHz processor and has 8GB of onboard memory.
That storage can be expanded with up to 32GB via a memory card. The rear camera can also record 720p HD video. The 3.25-inch screen has a resolution of 640 x 480 and Chris reckons the screen is a solid update to the original Torch. The camera shoots 5MP photos along with that HD video I already mentioned. The phone doesn't exactly blow Chris away, be he figures it's a solid offering. There is no firm date on when the 9810 will hit AT&T, but you can enter your email address on the official page to be notified when more details are available.