BlackBerry Storm official on Verizon and Vodafone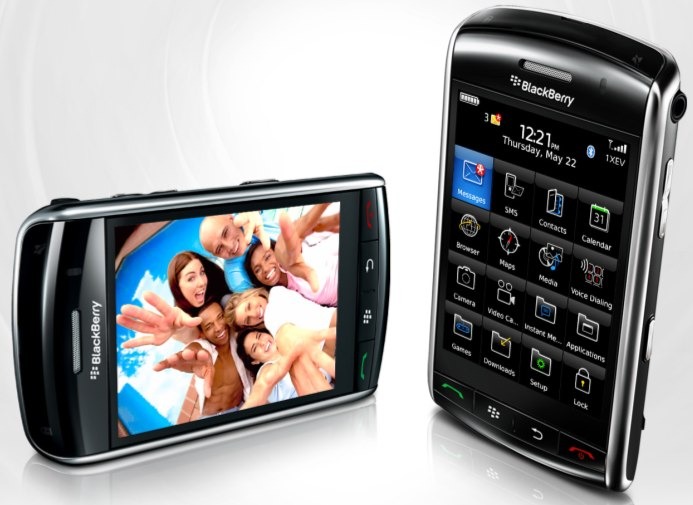 Verizon and Vodafone have officially announced the BlackBerry Storm, RIM's touchscreen smartphone with 3G connectivity and an innovative "click-through" 480 x 360 display with haptic feedback.  The Storm has a 3.2-megapixel camera with flash and mechanical autofocus, Bluetooth 2.0 with support for the A2DP wireless stereo profile, and accelerometer controlled screen-rotation with a choice of SureType, MultiTap and QWERTY keyboards.
The device will be available in the US as the BlackBerry Storm 9530 on Verizon's EV-DO Rev.A network (with 2100MHz HSDPA and quadband GSM for worldwide use), and as the BlackBerry Storm 9500 on Vodafone's 3G HSDPA network in Europe, India, Australia and New Zealand.  With a transmissive TFT LCD display and capacitive touch-panel, the BlackBerry Storm has a unique ClickThrough system using a sensor array beneath the touchscreen layer; there will also be GPS (both native and assisted) for navigation and photo geotagging, as well as a standard USB port.
A microSD slot supports cards up to 16GB in capacity, to augment the handset's 128MB of RAM and 1GB of built-in storage.  As well as RIM's usual messaging suite, supporting push email and Exchange synchronization, there'll be preloaded IM clients, RSS reader and a full HTML browser (though apparently lacking Flash support).  Media functionality includes a full-screen video player, on-device audio playlist creation and equalizer with eleven presets.  If you're not using A2DP wireless headphones there's a standard 3.5mm headphone jack.
Battery life is rated at 15 days standby or 5.5hrs talktime in either GSM or CDMA modes.  Of course, the most important details are launch date and price, which the carriers say we'll have to wait a little longer to find out.  All we know is that they expect the BlackBerry Storm 9500 and BlackBerry Storm 9530 to arrive this Fall.
Press Release:
BlackBerry Takes the World by Storm with VERIZON WIRELESS AND VODAFONE

BlackBerry Storm Delivers the Full Power of the BlackBerry Platform on the World's Leading Networks with the World's First "Clickable" Touch-Screen Smartphone

BASKING RIDGE, N.J., NEWBURY, England, and WATERLOO, Ontario – Verizon Wireless, Vodafone Group (NYSE and LSE: VOD) and Research In Motion (RIM) (NASDAQ: RIMM; TSX: RIM) today announced that the BlackBerry® Storm™ will be available exclusively to Verizon Wireless customers in the U.S. and Vodafone customers in Europe, India, Australia and New Zealand later this fall.

Designed to satisfy the needs of both consumers and business customers, the BlackBerry Storm smartphone combines the powerful communications features, global connectivity and personal productivity advantages of the BlackBerry® platform with a revolutionary touch-screen technology that dramatically enhances the touch interface and enables easy and precise typing. The world's first "clickable" touch-screen responds much like a physical keyboard and also supports single-touch, multi-touch and gestures for intuitive and efficient application navigation.

In the U.S., Verizon Wireless customers will benefit from the nation's most reliable wireless voice network and the pervasiveness of Verizon Wireless' reliable high-speed 3G Evolution-Data Optimized (EV-DO) Revision A (Rev. A) network for rich Internet browsing and multimedia applications. In Europe, India, Australia and New Zealand, Vodafone will support customers with its high-speed 3G mobile broadband networks and the power and reach of the world's leading international mobile communications group.

"We are proud to introduce the first touch-screen based BlackBerry smartphone together with Verizon Wireless and Vodafone," said Mike Lazaridis, president and co-chief executive officer at RIM. "The BlackBerry Storm is a revolutionary touch-screen smartphone that meets both the communications and multimedia needs of customers and solves the longstanding problem associated with typing on traditional touch-screens. Consumers and business customers alike will appreciate this unique combination of a large and vibrant screen with a truly tactile touch interface."

"The BlackBerry Storm offers our customers more ways to stay connected to both their personal and professional lives – whether in their communities or around the globe," said Mike Lanman, vice president and chief marketing officer of Verizon Wireless. "The BlackBerry Storm combines the reliability of our 3G network with the dependability and network efficiency of the BlackBerry platform to deliver our customers the ultimate wireless experience – all in one of the coolest smartphones available on the market today."

"We are delighted to bring the power of the purpose built BlackBerry Storm, directly into the hands of consumer and business customers," says Frank H. Rovekamp, global chief marketing officer, Vodafone Group. "With its unique clickable touch-screen, giving access to all the desirable multimedia features and services such as browsing, music and video, turn-by-turn satellite navigation, messaging and social networking, and BlackBerry's mobile heritage and strong business reputation, the BlackBerry Storm is being brought by Vodafone into the consumer world. With Vodafone's ultra high-speed, reliable mobile network and this exclusive and exciting new smartphone, there has never been a better time to be with Vodafone."

Touch and Feel

The BlackBerry Storm smartphone comes with an innovative touch-screen that actually depresses ever so slightly when the screen is pressed. The user distinctly feels the screen being pressed and released with a gentle "click," similar to the feeling of a key on a physical keyboard or a button on a mouse. The "clickable" touch-screen gives the user positive confirmation that they have made a selection and the result is a dramatically enhanced touch interface and a highly-intuitive typing experience.

In addition to the familiar navigation keys ("phone," "menu" and "escape") that are common to other BlackBerry smartphones, the new BlackBerry Storm adds support for multi-touches, taps, slides and other touch-screen gestures, so customers can easily highlight, scroll, pan and zoom for smooth navigation.

The BlackBerry Storm smartphone also features a built-in accelerometer, allowing its touch-screen to automatically switch between landscape mode and portrait mode as the user rotates the handset – RIM's SureType® keyboard layout is available in portrait and a full QWERTY* keyboard layout is available in landscape mode. Other relevant features, such as cut and paste, are only a touch away for the ultimate smartphone experience.

World Class Smartphone

The BlackBerry Storm is a top of the line 3G mobile phone with premium features and global connectivity. In the U.S., the BlackBerry Storm 9530 gives Verizon Wireless customers 3G EV-DO Rev. A/CDMA technology – and (2100Mhz) UMTS/HSPA and quad-band EDGE/GPRS/GSM for global use. The BlackBerry Storm 9500 from Vodafone supports (2100Mhz) UMTS/HSPA and quad-band EDGE/GPRS/GSM networks.

Browsing is Fast and Easy

Customers will enjoy a full HTML high-performance browser that works in either portrait or landscape orientation. Navigating Web sites is fast and easy with the touch-screen interface that lets users double tap to zoom in and slide their fingers to scroll and pan.

Icons along the bottom of the display allow for quickly accessing Web sites, switching between "Page View" and "Column View" as well as the ability to toggle between "Pan" mode and "Cursor" mode. The enhanced browser supports file downloading, streaming audio and video (RTSP), and with its built-in RSS support, new content from supported Web sites can be automatically pushed to the user.

Staying Connected

The BlackBerry Storm smartphone brings the full power of the industry's leading mobile e-mail and messaging solution without compromise. It supports personal and corporate e-mail and text (SMS), picture (MMS) and instant (IM) messaging on the most prevalent consumer and enterprise platforms, as well as easy access to popular social networking sites.

Packed with Additional Features

The BlackBerry Storm smartphone, exclusively available from Verizon Wireless and Vodafone, also includes the following features and functions:

• BlackBerry® Internet Service, BlackBerry® Unite!, BlackBerry® Professional Software and BlackBerry® Enterprise Server support

• Preloaded DataViz® Documents to Go® allows users to edit Microsoft® Word, Excel and PowerPoint files directly on the handset

• 3.2 megapixel camera with variable zoom, auto focus and a powerful flash that also provides continuous lighting when recording video

• Built-in GPS supports location-based applications and services, as well as geotagging of photos

• 1 GB of onboard memory storage and a microSD™/SDHD memory card slot that supports up to 16 GB of additional storage

• Media player that can play movies smoothly in full-screen mode, display pictures and slideshows quickly and manage an entire music collection; playlists can be created directly on the handset and there's an equalizer with 11 preset filters – including "Lounge," "Jazz" and "Hip Hop" – for customized audio ranges when using wired headphones or external speakers

• A 3.5 mm stereo headset jack, support for Bluetooth® stereo audio profile (A2DP/AVRCP) and dedicated volume controls

• Sleek, elegant design with contoured corners, stainless steel back and chrome accents surrounding its large (3.25") glass lens; its exceptional 480 x 360 resolution at 184 ppi is crisp and bright with eye pleasing clarity

• An ambient light sensor that automatically adjusts backlighting for ideal screen viewing and an accelerometer that allows customers to view applications in either portrait or landscape mode by simply rotating the handset

• Removable and rechargeable 1400 mAhr battery that provides approximately six hours of talk time on 3G networks and 15 days of standby time

Additional details related to availability and pricing will be announced in the coming weeks. To learn more or register to be notified when the BlackBerry Storm is available, visit www.blackberry.com/storm, www.verizonwireless.com/storm or www.vodafone.co.uk/storm.

* Virtual keyboards are also available in AZERTY, QWERTZ and other configurations to support different language groups.