BlackBerry Sales Just 20% Of Verizon Smartphones As Android Ascends Claims Analyst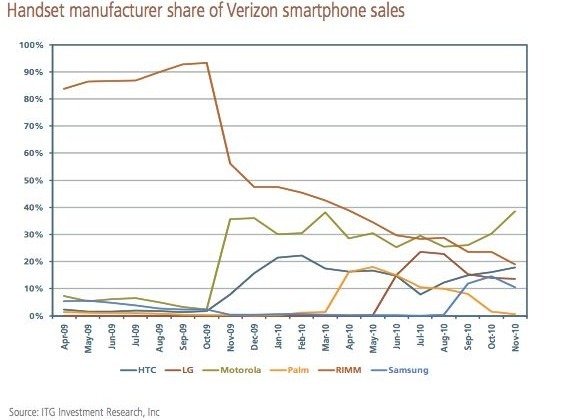 RIM's BlackBerry handset range now accounts for less than 20-percent of Verizon Wireless' smartphone sales, according to ITG Investment Research analyst Matthew Goodman, falling from a high of over 90-percent in October 2009. The report, cited by AllThingsD, claims the dramatic fall from grace occurred shortly after the Motorola DROID launched on the network in late 2009; Android devices now reportedly account for 80-percent of Verizon's smartphone sales.
46-percent of those Android sales, Goodman calculates, are devices from Motorola's DROID range. Meanwhile, Verizon BlackBerry sales dropped 45-percent year-on-year in the last quarter, and that pattern isn't expected to turn around any time soon. In fact, Goodman expects sales to drop 49-percent YoY in Q4 2010.
Verizon was tipped earlier this week to be eagerly negotiating with Apple over an iPhone launch on the network, with Kaufman Bros. analyst Shaw Wu suggesting internally the carrier was uninspired by the upcoming BlackBerry 6 OS refresh. Given the minority share of the smartphone segment the handsets supposedly have, that doesn't sound all that unbelievable.
[via Electronista]