BlackBerry Q10 may not launch in US until May or June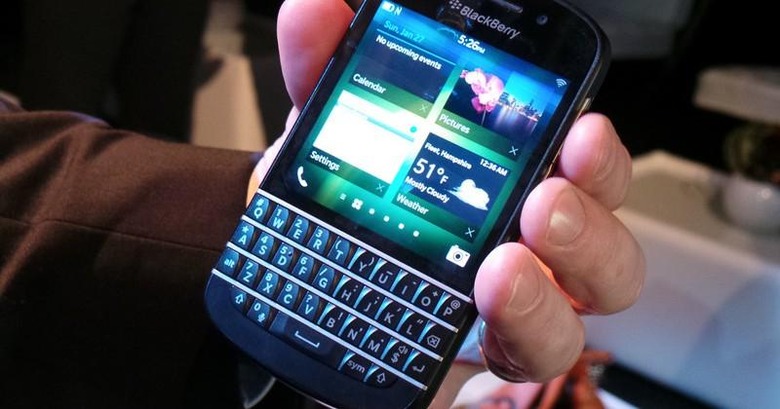 When BlackBerry held a launch event for its new mobile OS at the end of last month, it unveiled two handsets that will be running it: the BlackBerry Z10 and the BlackBerry Q10. While the Z10 is a touchscreen-only phone, the Q10 has a physical keyboard remiscient of the devices that made BlackBerry famous. If you've been holding out for the Q10 and you live in the US, we're sorry to say that you might have to wait until May or June to get your hands on one.
In an interview with the Associated Press (via ABC News), BlackBerry CEO Thorsten Heins gave us a rough idea of when we can expect the Q10 to launch in the US. He didn't give specifics, but he did say that the Q10 probably won't start popping up on carrier shelves until 8 to 10 weeks after the Z10 has launched. With the Z10 not arriving until mid-March, it could be summer by the time we see the Q10.
Of course, what Heins said isn't set in stone. It's more up to the carriers than anything else, as they will all want to test it before deciding to offer it. So, there's a possibility that the Q10 will launch at some carriers in the US earlier than this May-June window. In the end, we'll have to wait for each carrier to announce their own release dates for the BlackBerry Q10.
It certainly sounds like the BlackBerry Q10 has a lot to live up to, as we've been hearing that the Z10 has been selling out in some areas in the UK and posting excellent pre-order numbers in Canada and UAE. Reviews seem to be generally positive as well, so if BlackBerry can hit it out of the park with the Q10, the company will be in good shape. Be sure to check out SlashGear's hands-on with the BlackBerry Q10 to hear our initial impressions!