BlackBerry PlayBook Tablet not due until 2011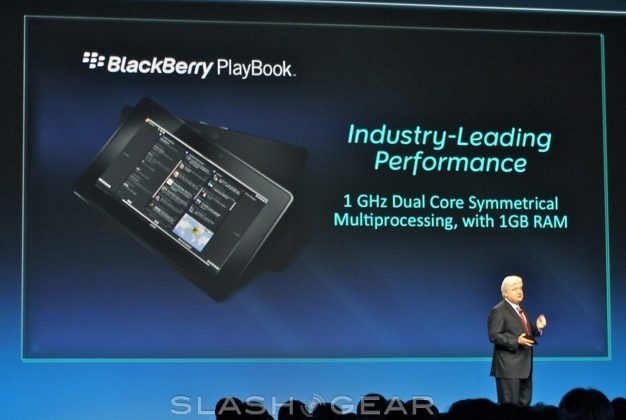 The BlackBerry PlayBook tablet might have been RIM's surprise announcement at the company's DevCon 2010 conference today, but the 7-inch slate itself was a no-show on stage when it comes to actual prototype hardware.  RIM showed off a canned demo video of the BlackBerry PlayBook – which you can see after the cut – but failed to put a physical device on show.
That could well tie in to earlier rumors that the QNX platform the BlackBerry PlayBook is built on is far from ready for prime-time.  Sources inside the company had suggested that indecision over the scope of the tablet OS – together with issues around porting RIM's proprietary battery, BES and email compression systems – had left development seriously behind schedule.
There are also questions remaining about the hardware; RIM's spec list is pretty comprehensive, but makes no mention of internal storage, the type of display panel used, or even why it's called the BlackBerry PlayBook when RIM seem to be targeting it first and foremost at professionals.  It's also heavily dependent on whether developers choose to opt into the new platform: RIM says they're planning to begin working with devs and "select corporate customers" next month, and are accepting registrations for early SDK access here.