BlackBerry PlayBook sequel unlikely as Heins slams tablets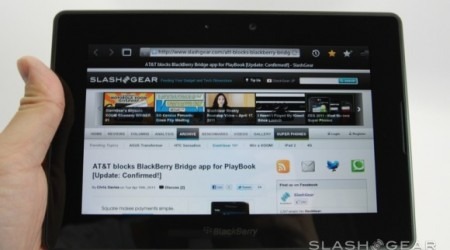 BlackBerry CEO Thorsten Heins has dismissed the long-term potential for tablets, arguing that time is running out on slates and – perhaps still stinging from the PlayBook failure – suggesting they're a bad business model. Heins, who had been suitably ebullient about the likely success of the recently-released BlackBerry Q10, predicting sales in the tens of millions, was equally critical of tablet options. "In five years I don't think there'll be a reason to have a tablet anymore" he predicted.
Speaking at the Milken Institute conference in Los Angeles this week, Bloomberg reports, Heins vaguely outlined his reasoning behind the dark prediction. "Maybe [you'll have] a big screen in your workspace, but not a tablet as such" the CEO suggested. "Tablets themselves are not a good business model."
You certainly can't blame Heins for being pessimistic about slates, given the failure of the BlackBerry PlayBook. RIM – as it was known back when the PlayBook was released – launched its 7-inch iPad rival back in 2011 as a companion device to BlackBerry 7 handsets, but the tablet's limited standalone functionality left consumers non-plussed, and by the time the OS – a precursor of the BlackBerry 10 platform on the Q10 and Z10 – was reworked, the company had already resorted to slashing prices in order to clear shelves.
Heins has since suggested that, while a tablet isn't necessarily off the table, BlackBerry will need to see the opportunity to do something uniquely special before it's tempted back into that particular market. "I want to gain as much market share as I can," he said in an interview back in January 2013, "but not by being a copycat."
The negativity around slates has led to suggestions that BlackBerry is in no hurry to – and may in fact never – replace the PlayBook, despite originally arguing that one of the strengths of the QNX-based BlackBerry 10 OS is its cross-platform flexibility across phone and tablet-scale devices. One possibility, meanwhile, is that increasingly powerful phones could be used to drive the "big screen in your workplace" Heins mentioned; the Z10 and Q10 already support HDMI output to a separate display.