BlackBerry PlayBook gets 7digital MP3 download store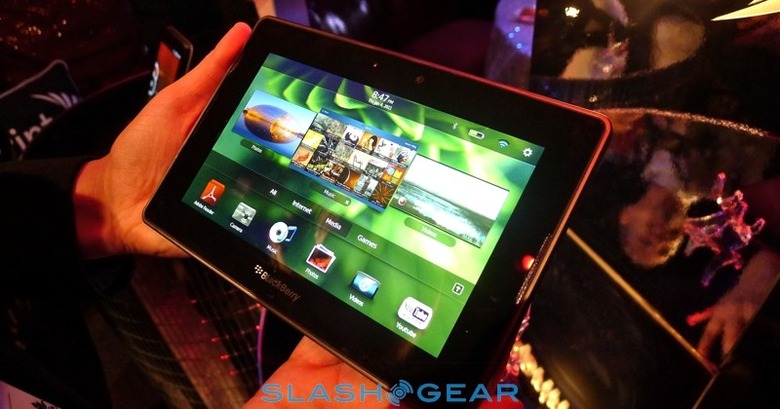 RIM has inked a deal with digital music provider 7digital for a Music Store on the BlackBerry PlayBook tablet. The app will see over 13m MP3s available for on-device purchase on the QNX slate, when it launches in the US and Canada later this year, as part of RIM's attempt to take on iTunes and the iPad 2.
The MP3s 7digital offers are DRM-free – the company also offers tracks online using Microsoft DRM, but they don't appear to be included in the PlayBook range – which means they'll be easier to move around between devices than, say, tracks purchased from iTunes. There's no sign of video downloads, however, which RIM will need if it's to compete fully with Apple.
The PlayBook has a 7-inch screen and is expected to be launched as early as April 10 according to recent leaks. It will initially be available as a WiFi-only model, with a WiMAX version for Sprint following later in 2011.
Press Release:
7digital and RIM Strike a Chord with Music Store on the BlackBerry PlayBook

7digital Music Store to be pre-installed on the BlackBerry PlayBook at launch in the US and Canada with further international roll out in 2011

7digital Music Store lets users browse, preview and purchase tracks from a catalogue of over 13 million MP3s

LONDON, UNITED KINGDOM and WATERLOO, ONTARIO–(Marketwire – March 9, 2011) – Research In Motion (RIM) (NASDAQ:RIMM)(TSX:RIM) and 7digital today announced that the 7digital Music Store will come pre-installed(i) on the BlackBerry(R) PlayBook(TM).

The 7digital Music Store will give BlackBerry PlayBook users access to 7digital's catalogue of over 13 million high quality (320kbps) MP3s. BlackBerry PlayBook users will be able to search for tracks, albums and artists and preview tracks before making a purchase. Users can also discover new music through 7digital's recommendation technology. Prices for BlackBerry PlayBook users will match the prices on 7digital.com, with individual tracks and albums priced in a customer's local currency.

Ben Drury, CEO 7digital comments, "We're really excited to be working with RIM to bring the 7digital experience to the BlackBerry PlayBook. RIM has created an incredible tablet with premium multimedia features and together we are delivering a truly exceptional music experience for mobile users, offering content that is extremely easy to discover, purchase and use.

"We currently have the largest international footprint of any MP3 digital music seller and we look forward to expanding our business with RIM throughout the year."

"The 7digital Music Store is a perfect complement to the high-performance BlackBerry PlayBook, providing users with fast searches and downloads, and a slick interface that makes it very easy to discover, purchase and enjoy music," said Alistair Mitchell, Vice President, BBM Platform & Integrated Services. "We are thrilled to be working with 7digital to provide BlackBerry PlayBook users with access to an amazing catalog of 13 million tracks."

The BlackBerry PlayBook tablet running the 7digital Music Store application will be previewed this week at the South by South West conference in Austin, Texas.

(i) Certain territorial restrictions may apply.