BlackBerry PlayBook 2 Details Surface?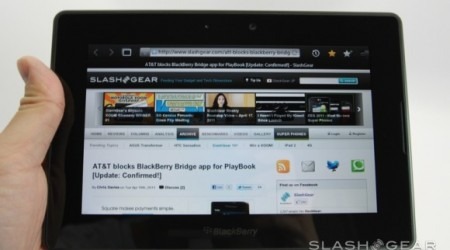 The
version has yet to launch, and talk about version 2 is already cropping up. Early this month, rumors pointed to a
to arrive sometime before the end of this year, but little has been heard about it since. Now, some insider sources are confirming the claim and providing a few additional details.
Sources from N4BB, claim that the BlackBerry PlayBook 2 will indeed have a 10-inch screen and possibly a higher resolution. They also say that there will be black and white colored versions and that it will have a thinner bezel. There will be a SIM card slot and connectivity options will be only WiFi or 4G. The device will also be able to connect to BES without BlackBerry Bridge.
RIM should release a QNX update along with the PlayBook 2 launch. The update will likely bring native e-mail, calendar, and other standard BlackBerry apps. It's still not clear whether the 10-inch will completely replace the 7-inch model or be another size option. You can take a look at our
of the current 7-inch PlayBook. Do you guys think a 10-inch model would be better?
[
N4BB]