BlackBerry Pearl 9100 (aka Striker) appears on eBay?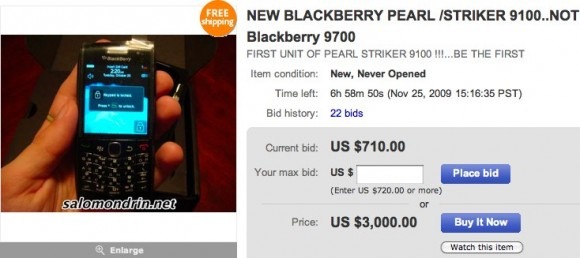 When we pondered out loud last Friday on when we might see the leaked BlackBerry Pearl 9100 (aka Striker) arrive on shelves, little did we know it would be quite so soon.  Of course, this isn't an official release from RIM, and stocks are severely limited: someone has supposedly gotten hold of an unlocked, unused Pearl 9100 and has put it up on eBay.  What's strange is that the seller doesn't appear to have any photos of the handset itself.
Instead they're using shots from other sites which have had access to prototype 9100 handsets, which amounts to asking $3,000 (Buy It Now) for a smartphone sight-unseen.  Still, it's enough promise to push bidding up to $710 at time of writing, with just under seven hours left to run.
We'll save our money and wait for the official release, we reckon.  So far specifications for the device are unknown, though it does obviously have the SureType keyboard and an optical trackpad rather than a trackball.
[via Wayne Schulz]