BlackBerry OS 6 gets second video demo: Social Feeds, WebKit browser, more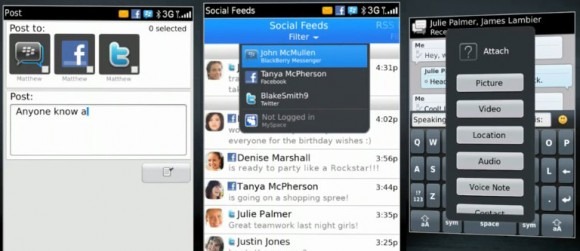 RIM has pushed out another video teaser, following up their initial BlackBerry OS 6 sneak-peak with a second showing – among other things – the new browser and social feeds app.  Set to debut later in 2010, the new BB OS can pull together Facebook, MySpace, Twitter and BlackBerry Messenger updates into a single stream, and allow you to post to one or more of them simultaneously.
Video demo after the cut
There's also universal search, an enhanced media interface, redesigned homescreen and more, including the WebKit based browser that BlackBerry users have been waiting for.  The latter gets pinch-zooming on touchscreen RIM handsets.
Of course, since RIM first unveiled BlackBerry OS 6 we've seen early versions of it running on as-yet-unannounced devices like the BlackBerry 9670 and 9800.  The new software version should arrive sometime this summer.