BlackBerry Onyx with optical trackpad spotted in wild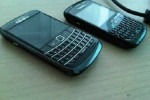 Rumors have been circulating for some time now that RIM would be giving their upcoming BlackBerry Onyx smartphone an optical trackpad, and now a live photo of the device seems to confirm that it does indeed depart from the traditional trackball.  From RIM's perspective the optical version is better as it requires no moving parts, is less likely to clog up with finger gunk, and should reduce in-warranty repairs.
In the photo you can see the BlackBerry Onyx next to the Gemini, each rocking their nifty little optical pads.  While early prototypes of the Onyx had a trackball, somewhere en route to production the decision was made to switch to the more straightforward control.
The handset is expected to land as the BlackBerry 9020, almost definitely on AT&T and most likely to T-Mobile USA as well.  UMA support is tipped for the latter, though that's not been confirmed yet.
[via Boy Genius Report]