BlackBerry L-Series and QWERTY N-Series leak with BB10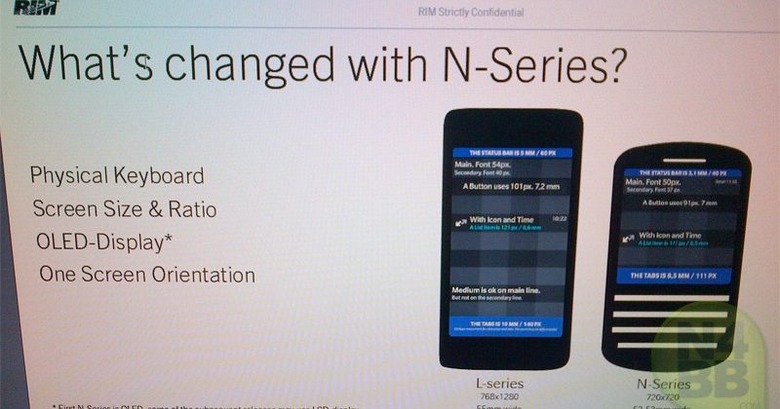 Details of two of RIM's earliest BlackBerry 10 handsets have apparently leaked, tipping sibling series of all-touch and QWERTY-blessed smartphones running the next-gen OS. According to what's tipped as an internal slide, sourced by N4BB, RIM is readying the full-touch BlackBerry L-Series – with a 768 x 1280 display –  alongside the BlackBerry N-Series, which will have a QWERTY keyboard and a 720 x 720 display.
The L-Series – formerly known by its codename of "London" – is strongly reminiscent of the BlackBerry 10 Dev Alpha device RIM handed out to developers to get them started creating apps for BlackBerry 10. It apparently measures 55mm wide and has a Retina Display-besting 356ppi screen.
Meanwhile, the N-Series – codenamed "Nevada" – will be 52-53mm wide and its square screen will run at 330ppi. The first model in the series will use an OLED panel, according to the slide, but future variants might swap that out for an LCD instead (presumably with some cost savings to hit lower price points).
As for when, exactly, these new phones could reach the market, the latest whispers suggest the BlackBerry L-Series might hit shelves as soon as early September 2012. RIM has already confirmed that its first BlackBerry 10 device will be touch-only, little surprise given the focus and form-factor of the Dev Alpha handset. The BlackBerry N-Series will drop in Q1 2013, it's said.
[Thanks Jack!]