BlackBerry Evolve and X revealed, but not for you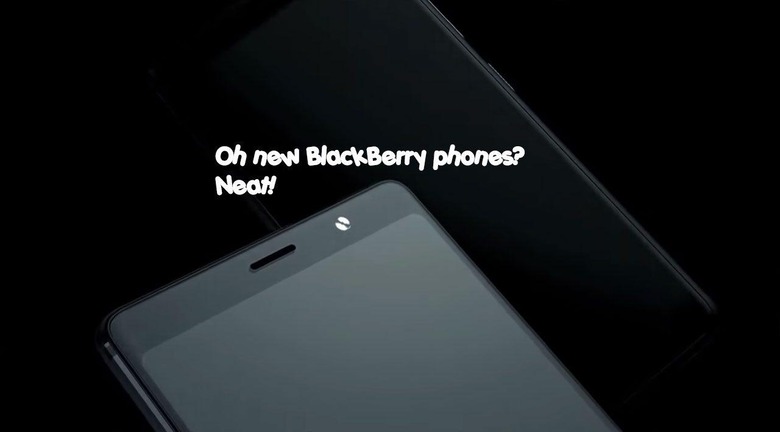 Two new BlackBerry smartphones were revealed this week in a manner that suggested they weren't meant for the USA. BlackBerry hasn't done a lot of business in the USA recently, and launching a pair of phones in India isn't outside their realm of possibility. In this case, it's more of a licensee situation, where Indian company Optiemus Infracom paid BlackBerry some cash to use their name while they launch a pair of phones branded and decked-out in BlackBerry app connections.
The prices on these smartphones are high, and the specs aren't very impressive. If you'd like to know why they're not launching in the United States, that might be a good enough reason right there: Android fans would quickly call them on their nonsense and wouldn't even consider buying the devices in the first place. But in India, they might well have a chance.
These two devices have no physical keyboards and roll with some more common traits. Both devices have a 5.99-inch FDH+ 2160 x 1080 pixel display panel covered with Gorilla Glass 5. Both devices have 64GB internal storage and 16MP cameras up front.
The backside camera set for the standard model is 13MP + 13MP, one RGB, the other monochrome. The X model has 12MP + 13MP cameras at its back with PDAF, 4K video recording abilities, and a more high-end photography setup overall. The lesser model has Bluetooth 4.2 while the X has 5.0 for reasons we can't begin to fathom.
The lesser model comes with a Qualcomm Snapdragon 450 processor with 4GB RAM. The X model has a Qualcomm Snapdragon 660 processor with 6GB RAM. Have a peek at some hands-on action below with BBin – they make the devices appear not half bad, really!
The BlackBerry Evolve is set to cost ₹24,990 in India – that's around $365 directly converted. The India-based price for the X model is ₹34,990, which is right around $510, and also madness. Especially since the OnePlus 6 is available in India already, and kicks both of these devices in the collective rear, right out the gate.