BlackBerry cuts licensing partnership with T-Mobile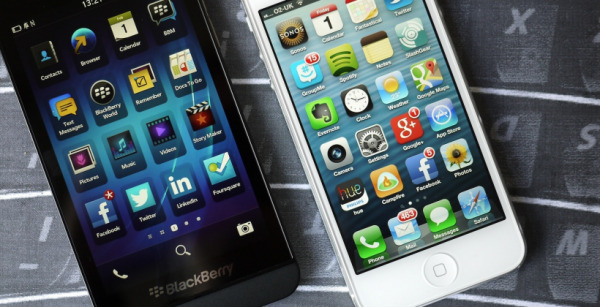 It might sound like a headline worthy of April Fools, but BlackBerry is a company that can hardly afford such a joke. The embattled smartphone maker has just announced that come April 25, it will no longer renew its license agreement with T-Mobile that allows the carrier to sell BlackBerry devices.
This move, though bold, is not exactly surprising given how relationships between the two have quickly soured just over a month. It all started in mid-February when T-Mobile sent out ads that practically suggested that the iPhone 5s is a great replacement for BlackBerry phones. This not-so-subtle jab did not sit well with BlackBerry fans under T-Mobile's network, and definitely not with BlackBerry's top brass.
Company CEO John Chen took to the Internet, and most likely fired off an unhappy private email, to express displeasure in T-Mobile's conduct. T-Mobile, for its part, was rather two-faced. Officially, they continue to support their BlackBerry customers and even offered free expedited shipping as an apology. On the other hand, T-Mobile CEO John Legere practically likened BlackBerry to MySpace, implying a golden age that has already gone by. He also said that the carrier will continue to offer its customers choices, meaning it won't stop coaxing BlackBerry users to switch devices and not jump to other carriers.
Now BlackBerry might be giving those users a reason to, but it might also get the opposite result. While T-Mobile will no longer be selling new BlackBerry devices, the two will still work together to continue servicing existing users and devices. T-Mobile will also still be selling whatever stock of BlackBerry devices it has left. Going forward, however, BlackBerry will be working with other carriers in helping T-Mobile customers jump ship and still stick to their BlackBerry phone.
And therein lies one great leap of faith on the part of BlackBerry. Carriers have been trying to poach each other's customers for a long time now and some might see this as an opportunity to wrangle up some loyal BlackBerry users. But brand loyalty is something that BlackBerry might no longer be able to rely on. Its users might end up simply switching to another mobile device because it is more convenient to remain under the same carrier. Whatever happens now, one thing is sure: the love story of BlackBerry and T-Mobile, if there ever was one, is officially over.
SOURCE: BlackBerry