BlackBerry Bluetooth Watch & Video remote gateway coming?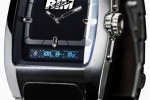 RIM are preparing a number of new Bluetooth accessories, including a new headset codenamed "Alpha 1", an in-car handsfree kit and, possibly, a Bluetooth watch and video-capable remote gateway.  BlackBerry accessories VP Antoine Boucher sat down with the BGR at WES to discuss his department's latest wares, and they couldn't help but notice that he was wearing a Sony Ericsson Bluetooth watch; after some prompting, Boucher admitted that his team had modified the timepiece to display BlackBerry alerts.
These included alerts when new emails, BlackBerry Messenger messages, texts, IMs, tweets and Facebook messages are received.  When pressed on whether RIM was developing their own Bluetooth watch, the VP would only say that his team "are exploring many accessories that would surprise people." 
Similarly, Boucher hinted that RIM are developing a next-gen version of the company's Remote Stereo Gateway, the Bluetooth-enabled audio streaming box that allows music on a Blackberry to be wirelessly played through a stereo system.  The new device would allow for wireless video playback across a Bluetooth connection.
While those two devices are only possible, RIM did confirm two more mainstream Bluetooth accessories.  "Alpha 1" is an over-the-ear headset with a molded in-ear bud, slightly smaller than the Jawbone PRIME and with a dial/hangup button and dedicated power control.  It can be used for voice calls, mono music playback and listening to voice-command controlled GPS apps, and RIM are looking at future upgrades to support text-to-speech and vice-versa.
Finally, the Bluetooth Vehicle Visor Mount – seen at CES 2009 – is on target for a June/July 2009 release, and will have both Bluetooth hands-free functionality and an integrated FM transmitter to pipe music on the smartphone to the car's stereo.  No word on pricing, however