BlackBerry 2011 CDMA roadmap leaks: Monaco, Sedona, Curve Touch & Bold Touch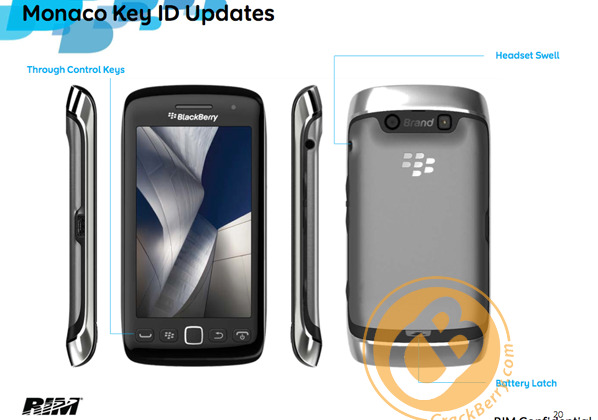 RIM's 2011 CDMA device roadmap has leaked, bringing with it details of a renewed push for the Canadian company into touchscreen handsets. According to what looks like a RIM presentation passed to CrackBerry, the BlackBerry PlayBook release in Q2 2011 will be shortly followed by the all-touch BlackBerry Monaco, a 1.2GHz CDMA/UMTS World Phone hybrid with a 3.7-inch WVGA touchscreen and 5-megapixel camera with flash.
The Monaco will also have an optical trackpad, 4GB of storage, 768MB of RAM and a memory card slot; connectivity will include WiFi b/g/n, Bluetooth 2.1+EDR, microUSB and NFC, along with GPS, a digital compass and accelerometer. The smartphone will run BlackBerry v6.1 and measure 120 x 62 x 11.5 mm.
It'll launch in Q3 2011 alongside the BlackBerry Bold Touch (aka Montana), at 10.5mm the thinnest BlackBerry to date, and taking the top spot in RIM's QWERTY range with its forged, machined steel chassis. The Bold Touch pairs a physical keyboard and a 2.8-inch VGA capacitive touchscreen, together with an optical trackpad, CDMA/UMTS and WiFi b/g/n. More specs in the gallery below.
Finally there's the BlackBerry Sedona, set to bring its simple QWERTY phone ways to the market in Aug-Sept 2011, though still packing NFC, and the BlackBerry Curve Touch, a 3.25-inch HVGA all-touch smartphone with 5-megapixel camera and WiFi b/g/n. Full details in the gallery. RIM is pushing for NFC support across its range, which will be used for peer-to-peer networking and with special accessories.