BlackBerry 10 to have native Facebook, Twitter, and more at launch

Today at the BlackBerry Jam event RIM has been announcing things left and right. And for all those social network fans out there we have good news. RIM announced that all four major social networks will be on board at launch, and Facebook will even have their own native app for BB10. It didn't look much different than Android or iOS, but at least it's native.
That isn't all either. They've tossed out plenty of BlackBerry Apps in favor of working with the big four social network sites. They also confirmed Twitter, Foursquare, and LinkedIn will all be on board at launch. RIM only demoed Facebook today but we'll surely be seeing more from the other popular social networks soon enough.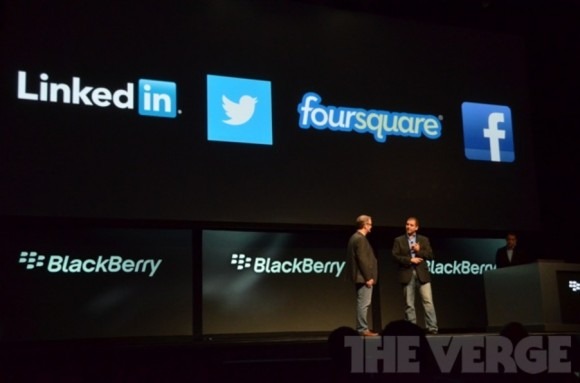 All of these social networks will be deeply integrated into the OS for BlackBerry Hub, and their impressive new Peek notifications we mentioned here. Along with Email, BBM and anything else neatly in one place.
Then RIM talked about App World. Mentioning that we can expect App World to sell movies, music, games and more. Many content providers are on board although we didn't get too many specifics. We can expect games from Gameloft, and at launch they'll have more than 100,000 apps in the App World store. Submissions to App World will open up to all developers starting on October 10th. Yup, 10/10 for those keeping track at home. Carrier testing of BlackBerry 10 devices also starts next month, so we expect to be seeing and hearing plenty more from RIM in the coming weeks.
[via The Verge]