BlackBerry 10 Peek finesses notifications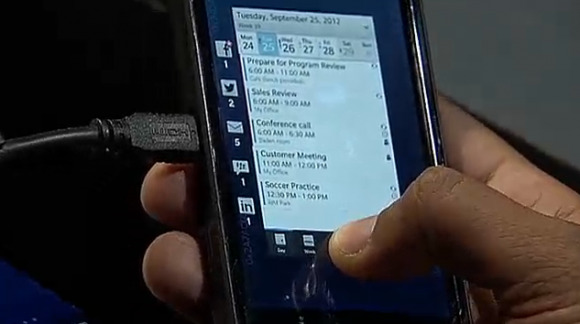 Today RIM and BlackBerry is showing off their new and improved mobile operating system in BlackBerry 10 — better known as BB10. Today at BlackBerry Jam (yes that's the name) they've been sharing all sorts of details about a better and faster system, seamless user experiences and more. One feature that was surely worth mentioning was "peek" where you simply slide up from the bottom bezel to get a peek at your entire BlackBerry Hub.
We've seen bits and pieces of BB10 leak out over the past few months, but today they'll be showing plenty of new features off to developers and fans alike as BBJam continues. With their new "peek" feature you simply can see any and all notifications — everything that is important to you — with one seamless gesture all with one hand. While on the go simply slide up with your thumb from the bottom of the screen and walla. From their wherever you are, whatever window you're in, zooms out into a full notification peek.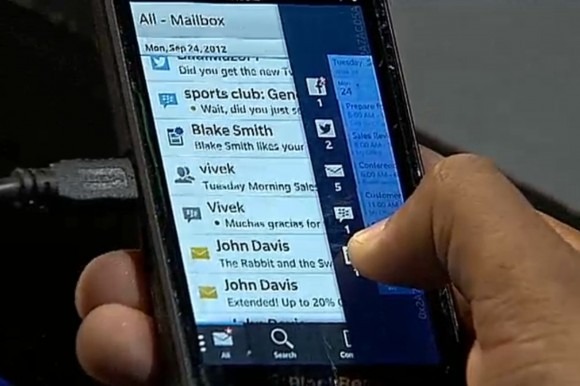 It's here in this "peek" they are calling BlackBerry Peek where you'll see every notification from your BlackBerry Hub. Now what is BlackBerry Hub? One centralized locations for your Email, Gmail, Twitter, FaceBook, BB Messenger, Text messages and more. The image above shows all the notifications in one after you've gestured up to reveal peek mode. From there you can simply slide to the side to enter the Hub — from anywhere in the OS.
In general RIM is calling this BlackBerry Flow. The entire user interface and UX flows with ease. They want the experience to be as seamless and as natural as possible, predicting what you're about to do next. They'll be showing tons on the predictive text of their keyboard, browser speeds and more so stay tuned.