BlackBerry 10 Smartphone press photos leaked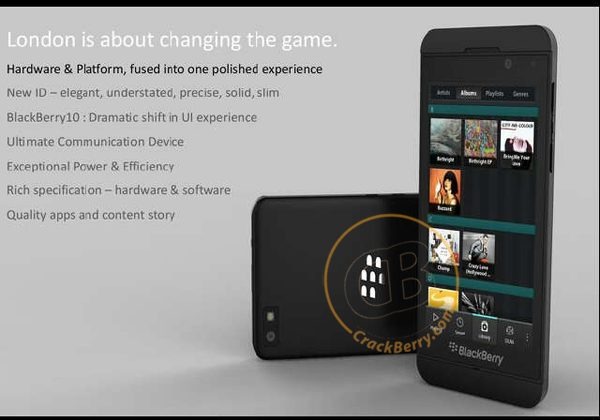 The next RIM vision of a BlackBerry smartphone, or Superphone as they're calling it at the source for this leak, is a fully touch-sensitive candybar-style device. This device comes from CrackBerry and appears to either be code-named London or will be released in London sometime soon. This image also shows off how the device will be thin, will have a single flash and camera on the back, another camera on the front with a sensor or two, and one gigantic display on the front as well.
The user interface looks rather simple, right in line with what we've seen of BlackBerry 10 thus far, while the hardware is what they say it is – "elegant, understated, precise, solid, and slim." The user interface is a "dramatic shift" from what we've seen in BlackBerry so far, and the image notes that the device will be rich in both power and efficiency. This device is said to be very possibly running a Texas Instruments OMAP5 or a Qualcomm Snapdragon SoC under the hood, and that it'll be out this year – maybe.
This device has a rather thin profile, the front appears to have a nearly full-faced pane of glass to protect its touchscreen with plastic at the top and bottom – and the back is plastic as well. The BlackBerry symbol is on the back is mirrored like most BlackBerry icons on RIM smartphones are, and the device looks nearly ready for release. Is this the device RIM needs to stay afloat?
[via CrackBerry]