BlackBerry 10 slides leak video chat and screen sharing via BBM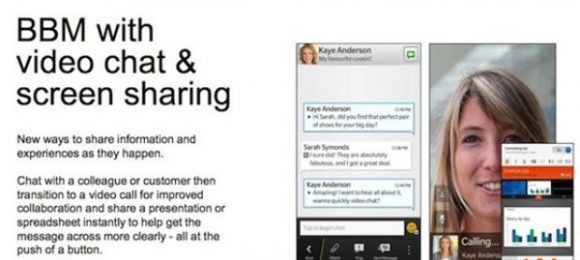 With the final release of BlackBerry 10 coming up in a special event scheduled for the 30th of January, it's no wonder we're seeing a blast of interest in everything RIM – today's leak being a set of slides showing BBM boosts and a new task manager. This set of slides shows that BlackBerry Messenger is set to be updated in a big way with both full-on video chat and screen sharing for all. Also on the docket is a fully upgraded task manager for those of you hoping to keep your tasks in order – notes and all.
This update shows the new task manager as an element entitled "BlackBerry Remember." Here you'll be able to sync with Outlook for email and work directly with Evernote right out of the box. This information has been shown in the slides here and now as well as in the original gold SDK provided by RIM quite recently.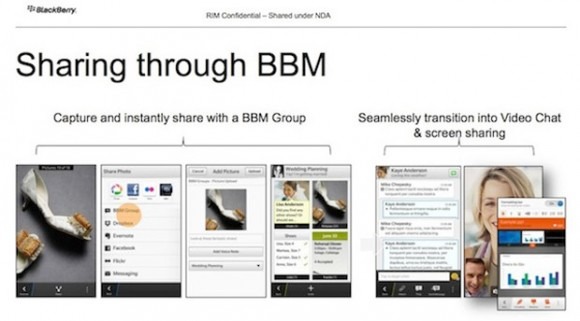 With BBM you'll soon be able to share much more intuitively, too. You'll be able to capture a photo, tap one of your vast collection of apps to share outright – Picasa, Facebook, Flickr, and more veing shown right here in slide form, add comments, and share. You can share to one person or to your newly forge BBM Group if you wish. You'll be able to "seamlessly" transfer between video chat and screen sharing as well – great for directions for businesses.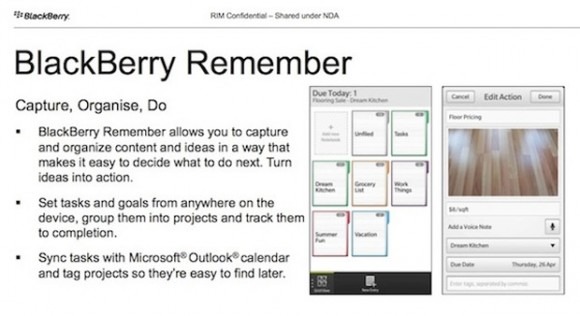 With BlackBerry Remember you're going to be able to capture and keep clean all of your notes from all different directions. You can "turn ideas into action", so say the leaked slides here, and sync with a variety of services. Microsoft Outlook is, of course, first on the list of connections, and Evernote has been tipped more than once as well.
[via CrackBerry]